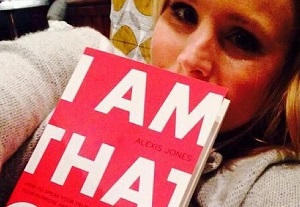 Her husband recently appeared on The Ellen DeGeneres show, describing the traumatic birth of their second child from his perspective, and now actress Kristen Bell has given her rather amusing side of things.
The Frozen star, who welcomed her second daughter with husband Dax Shepard back in December, paid a visit to Ellen this week to fill her in on life with newborn Delta.
If you were left laughing at Dax's admission that he'll need 'medication' if Kristen has to give birth again, just wait until you hear what the new mother had to say about the birth herself.
The 34-year-old, who was in labour for 33 hours and ended up having an emergency Caesarean section, had Ellen and her audience in hysterics as she recalled 'really enjoying' her epidural!
"While they were doing it, I actually thought, 'What else could we get done down there?'" she joked, adding, "Maybe just lengthen the shins? I've always wanted to be, like, 5 foot 7. Just anything to keep the epidural flowing, because – these modern hospitals, they treat you right!"
Check out Kristen's version of events below, and just wait for the punch-line.
Could we love her any more?!