It is always refreshing to hear our favourite celebrity mums being open and honest when it comes to body image expectations, and mum-of-two Drew Barrymore has spoken incredibly candidly on the subject this week.
The 40-year-old, who is mum to two-year-old Olive and 11-month-old Frankie opened up on the "crazy things" that have happened to her body since giving birth to her daughters.
In an interview with Glamour magazine, the Charlie's Angels star said: "After making two babies, holy cow, does your body do some crazy stuff! It's hard to stay positive and love yourself. You feel like a kangaroo with a giant pouch; everything's saggy and weird. But you think about how beautiful it is that you're able to make children."
Drew, who recently announced that she was quitting acting in order to be a better mother to her two young daughters, also called out the unrealistic expectations that social media has put on women, especially mothers.
"You don't always have to look stunning on Instagram. I've been makeup-less, pregnant, and stuffing food in my face in many pictures; that makes it all the more exciting when I do do something more attractive. I don't like it when everyone looks so perfect all the time. Where's the humour in that?" she said.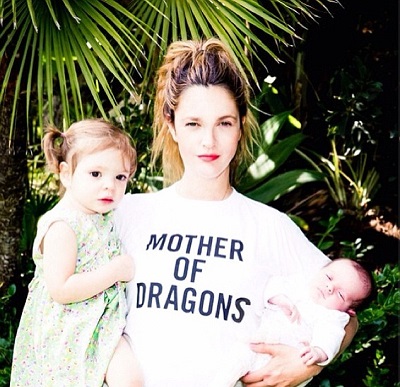 Drew is just the latest star to blast the negative comments and ideal surrounding the body image of pregnant women and new mums.
Frozen star Kristen Bell recently opened up on her attitude to getting back into shape following the birth of her second child, daughter Delta.
"I'm not willing to kill myself to look a certain way. And I won't ruin the first six months of being with my baby because I'm only eating lettuce. It's also not healthy while you're breastfeeding, and I breastfeed like a champion," said the 34-year-old.