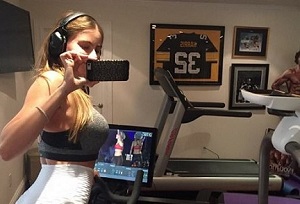 When she turned up for the world premiere of her fiancé's new movie last night, this Hollywood actress had no idea what was in store for her on the red carpet.
Following her highly publicised court battle with her ex-fiancé, Modern Family actress Sofia Vergara was heckled by pro-life protesters while posing for photographs at the premiere of Magic Mike XXL.
The 42-year-old was present at the event to support her fiancé, Joe Manganiello, who stars in the movie, but the happy mood soon turned sour as matters from her private life were brought to the fore.
Sofia is currently embroiled in a lawsuit with her former partner, Nick Loeb, over frozen embryos they created together. While Vergara is now said to be planning a family with her actor fiancé Joe, Loeb has launched legal proceedings to preserve the embryos in a bid to save the lives they created together.
Angry protesters showed up to last night's premiere waving banners and placards blasting Sofia. One of the messages read: "Sofia: Unfreeze your daughters, unfreeze your heart". Meanwhile, another sign urged: "Sofia, let your daughters live".
Vergara previously responded to Loeb's lawsuit defiantly during an interview on The Howard Stern Show, saying: "There is a contract, he can't do anything [with the embryos]. I didn't do anything wrong because somebody changes their mind suddenly."