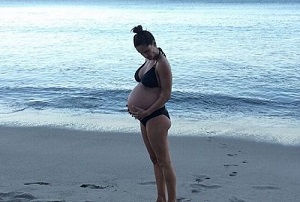 Major congratulations are in order this evening as it has been announced that actress Leonor Varela has given birth to her second child.
The star, best known for playing the character of Marta Del Sol in the rebooted version of the TV show Dallas, welcomed a daughter with her producer partner Lucas Akoskin.
Leonor took to her Instagram account to share the news with her followers, posting the first photo of little Luna Mae, who was born on Wednesday.
"Feeling so blessed this angel just landed in our arms. Welcome to the family Luna Mae," wrote the 42-year-old.
Leonor is already mum to the couple's two-year-old son, Matteo.
The actress, whose due date fell last week, amused her followers earlier this week with photos of her attempts to bring on her labour.
Sharing pictures of herself jumping on the beach, the star wrote: "What have I not done to try and get her to come out!...Walk, walk, walk and then hopefully something will happen right?"
We're sending big congratulations to the star and her family on their amazing news. What a beautiful little bundle Luna Mae is!