As mums, we know more the value of having a spotlessly clean and hygienic home better than everyone else. Toddlers and young children spend most of their day crawling on floors and we all know that the chance of them putting something in their mouth is pretty high!
Vacuum cleaning can be such a tedious and time-consuming task especially when parents with young children often have to vacuum several times a day. For lots of people, the absolute least favourite task is empting the vacuum. This proves particularly difficult when you're dealing with a bagless vacuum cleaner. In fact, many times you might ended up having to vacuum again because dust has somehow inexplicably ended up all over the floor. However, with AEG's new UltraCaptic this is guaranteed to never happen. Before emptying, you compact the dust which allows for a controlled dust disposal.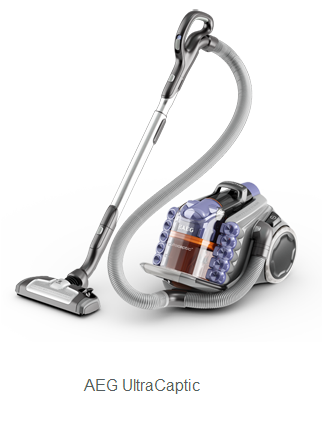 AEG UltraCaptic
AEG'S UltraCaptic also boasts HEPA 13 allergy filtration which is ideal if any of your family suffers from allergies. If you have a child that suffers from allergies, then you will know much effort is required to keep your child from experiencing an allergy attack and how easily one can be triggered. However, this unique allergy filtration system, traps the smallest particles of dust and lets nothing out except fresh air. The HEPA filter is washable and lasts up to five years and can be easily replaced when needed.
Not only does it have this clever feature but it also has powerful suction making it a really efficient vacuum cleaner.
The powerful Multi Cyclonic suction is combined with the efficient AeroPro silent nozzle, meaning you get spotless results with just one sweep even in tight corners and hard to reach places. The nozzle is flexible which means you will be able to clean all surfaces from hard wood floors to carpets, tiles and furniture with ease.
The AEG UltraCaptic is the ideal choice for families who need to keep their homes spotlessly clean so they don't have to worry about keeping little hands and feet off the floors.
AEG UltraCaptic Animal
The AEG UltraCaptic is also available as an UltraCaptic Animal version which is ideal for petowners. It features a turbo nozzle which easily gets rid of pesky pet hairs. It works on all surfaces including wooden floors, tiles, furniture and even soft furnishings making your home hygienic and hair-free. So, next time the kids let the dog jump up on the couch, you can be safe knowing it's one problem that can be easily fixed.
All these products are available from Harvey Norman.
Click here
to visit their website.