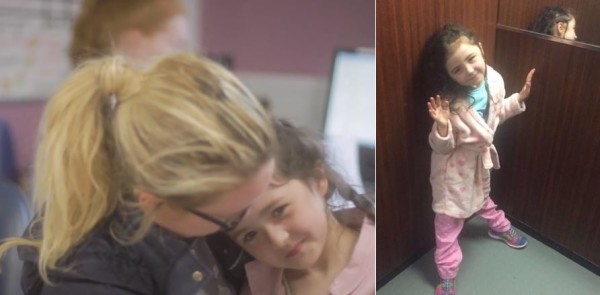 When Mark and Holly welcomed their first baby, Darcie Belle, into the world it was the happiest day of their lives.
However, as their beautiful daughter started to grow neither Mark nor Holly had any idea of the nightmare that lay ahead.

When she was born, Darcie was her parent's pride and joy.
"All I ever wanted in my whole life was a little girl," Holly explained.
"When I found out I was pregnant, and I found it was a girl, I actually felt like all my Christmases had come at once."
And as she grew older, it seemed that Darcie's life would be full of nothing but sunshine and songs.
"She loves being outside with nature. She loves the garden. She loves flowers. And singing. She loves singing."
But on one November night, everything changed. Mark looked into little Darcie's bedroom to check on her and saw her staring blankly into space.


"She frightened the living daylights out of me," Mark said. "There was no reaction from her."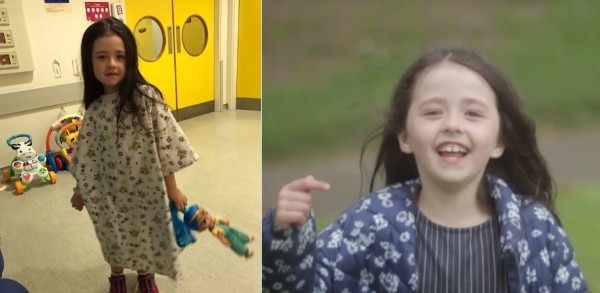 Holly and Mark started to notice more and more of these little 'incidents'.
But it was only when they took Darcie to hospital that they learned she was, in fact, having seizures which were being caused by a tumour on her brain.

It's every parent's worst nightmare but, for Holly and Mark, it was now a reality they would have to face.
Mr. Crimmins and the expert neurology team in Temple Street began to closely monitor Darcie. But in a very short space of time, it became clear that her condition was becoming much worse.

"Everything was a challenge, eating, drinking, everything," Mark explains.
"There were nights where she was running up and down the hall turning off lights, trying to open windows and doors. She didn't know what she was doing."
Darcie's tumour was pressing on the part of the brain that controls speech, and soon it started to have the most devastating impact on Darcie and her family.
As her condition worsened, Darcie began to have trouble speaking. Sentences got jumbled, names became confused, and then her beautiful little voice started to disappear entirely.

"She was watching Frozen one day and the song was playing and she couldn't sing it. You could see she knew what it was but it just wouldn't come out."

For Darcie's mum, Holly, not being able to hear her daughter speak or sing was heart-breaking.
"That was the worst. Not being able to hear your child's voice. All I wanted was to hear her say 'Mama' once more."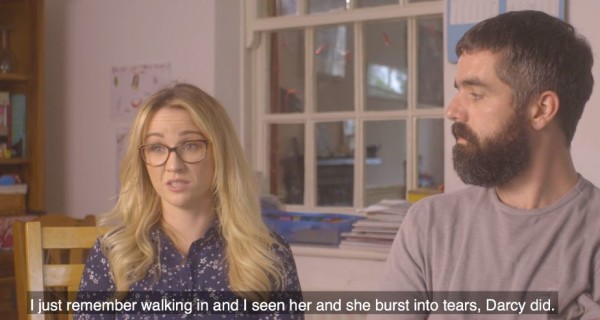 Eventually, it became clear that Darcie would have to undergo surgery to try and remove the tumour from her brain.
Holly and Mark will never forget the day of Darcie's surgery.
"When I carried her down to the surgery, I couldn't even look at her face. I just didn't want to let go of her."

Seven hours later, Darcie's surgery was over. Her anxious parents couldn't wait to see her again.
"The next morning I went up to ICU and I turned the corner and she saw me and she smiled – just for a second," Darcie's dad said.

It wasn't long until Darcie's smile and her boundless energy returned.
Just two days after her surgery, Darcie was running up and down the ward playing with the toys. And then, on the day Darcie was released from Temple Street, her mother's wish came true.
As Darcie and her family were driving home, Darcie started to sing once more: "Going home in the car, when she started to try and sing, that was happiness."
The Neurological team in Temple Street continue to keep a careful eye on Darcie's progress but the good news is that, over a year later, Darice hasn't had a single seizure.

Holly and Mark will never forget the great care they received in Temple Street or the incredible support they received from the doctors and nurses who cared for their family.

"It's an amazing place, I think the people in it are amazing. Everybody wants to help you," Mark shares.
And they will also never forget the incredible support they received from Temple Street's amazing family of donors and volunteers.
"It doesn't go unnoticed. Because, at your worst time, somebody putting aside their daily life and doing something like that for somebody else… it's magic."
Every single day, hundreds of sick children and their worried families come through the doors of Temple Street in need of world-class medical care. Temple Street Foundation raises the funds needed to ensure that these children have access to the very best paediatric equipment, facilities and supports when they need it most. Find out how you can transform little lives for the better by visiting www.templestreet.ie.