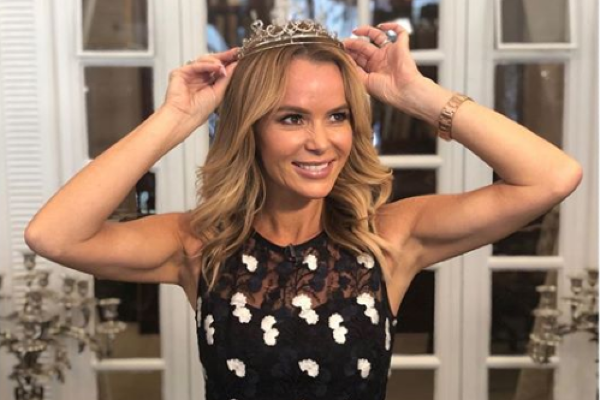 Amanda Holden has opened up about the tragic loss of her little boy, Theo.
The TV presenter teared up about her baby boy on ITV's Tonight programme which marked 70 years of the NHS.
Theo was stillborn as Amanda sadly lost her son in the seventh month of her pregnancy.
In the footage, obtained by the Sun, the Britain's Got Talent star revealed her heartache.
"I just remember hearing this woman just screaming and screaming and then it was actually — it was me, I realised it was me that was screaming."
"It was the most surreal, out-of-body experience and I was actually calling my daughter's name because I was just terrified about what to tell Lexi at the time."
Amanda looked back at the moments she got to meet her sleeping angel.
"He looked so normal and so peaceful. I held him in my arms and I said goodbye, basically."
The TV personality went on to explain her emotions around life after Theo, her support system and the amazing care she received.
"It was horrific in the months after Theo.
"But I couldn't have done it without the incredible team around us. My husband was so strong and so amazing but they got him through it too. And then the days and months afterwards, the same team of people checked on us every single day and it's not because I'm off the telly or famous or anything like that.
"I believe they'd have extended that care to any woman, any family, in my situation," she said.
The family's loss came after Amanda had miscarried a baby boy at six weeks, in a pregnancy just a year prior to Theo.
Understandably, Amanda shared her fears of trying for another child after her experiences.
However, despite never wanting to go through the pain she endured after Theo, the presenter knew she wanted to give Lexi, her daughter, a sibling.
"But I knew in order to carry on and live life, I had to have a baby and I was lucky enough to have the choice and be able to have another one," she said.
The star went onto have a little girl Hollie.
The now six-year-old was born in 2012.
Amanda's labour with Hollie was far from straight-forward.
The presenter was left in a coma for three days.
The 47-year-old spoke about an incredible nurse she encountered whilst she was recovering.
"I looked like death and I just remember silently crying because she was trying to brush the knots out of my hair. I literally sat there just there and, you know, just sobbing that someone was that tender, that loving, towards a complete stranger."
Clearly, despite the heartbreak, Amanda is one incredible mother and such a strong woman.