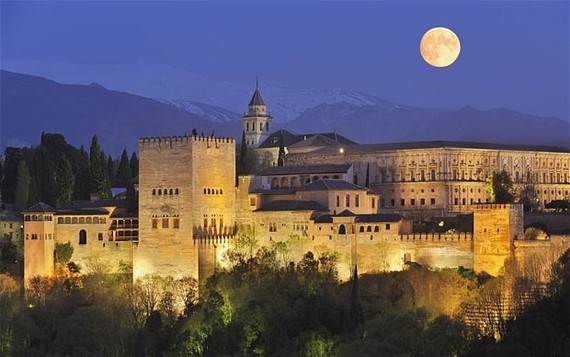 Splendid beaches, delicious cuisine, vibrant nightlife and lively fiestas all make Spain one of Europe's best getaways.
Spain boasts one of the most widely diverse cultures and landscapes in Europe, and here are a few must-see spots in this stunning country.
Lisbon Street Art
Lisbon's old and decrepit buildings have gotten a makeover in the form of government-supported graffiti. These stunning murals can be spotted throughout the city, but especially on walls in the Bairro Alto district and on Rua João de Oliveira. Take a tour with a street art expert to see the best of Lisbon's urban gallery.
The Alhambra, Granada
Muslim castle to Christian stronghold, the Alhambra has seen its share of changes, which are all reflected in its stunning architecture and design. Wander through the palaces, mosques and courtyards within the beautiful, and huge, 1,530,000 square feet of grounds.
The Sagrada Familia, Barcelona
This Catholic church in Barcelona is the unfinished masterpiece of Catalan architect and artist Antoni Gaudí. Gaudí used elements from the natural world as inspiration for his work, and his pieces are known for their fantastical shapes. When complete, the church will have three main façades: the Passion, the Nativity and the Glory, all elaborately carved in stone. While the church has been under construction for over a century, it is still open to the public.
Royal Palace in Madrid
The Royal Palace, which is open for public tours, feature an armory with weapons and equipment from the 13th century, and a painting gallery with works from Goya, Velázquez, and Carvaggio. While Spain's royal family no longer lives there, it is their official residence, so you might just spot a member of royalty on your visit if you're very lucky.
Montserrat
Literally meaning "saw mountain" in Catalan, Montserrat is adventure's call sign. Its spires tower over Catalonia, providing excellent rock climbing and hiking along sheer cliffs. The tamer traveller may want to experience the mountain with a gondola ride up to the century-old Benedictine abbey. The church houses the famous "Black Madonna," statue and some say that it holds the legendary Holy Grail.
La Rambla, Barcelona
This tree-lined avenue is one of the most well-known sites in Barcelona, where visitors from all over the world flock to experience the Catalan excitement of tapas, street performers and dusk till dawn nightlife.
El Escorial
Though only a hour away from Spain's bustling capital, El Escorial with serene mountain views and rolling pastures seems worlds away. The complex was designed by King Phillip II in the 16th century and includes a palace, a monastery, libraries, and so much more. Wander through the peaceful Garden of the Friars or pay respects to Spanish kings of the past in the crypts. You can even stay for the summer through one of Real Centro Universitario El Escorial-María Cristina's many international college programs.
Doñana National Park
Experience Spain's wild side with a trip to Doñana National Park. This 209-square-mile reserve has untouched wetlands and beaches that are home to wild boars, deer, wild horses, and over 200 species of birds. The park also has one of the last surviving populations of the Iberian lynx, one of the most endangered species of cats in the world. Take a four-hour guided tour in a jeep to experience the vastly different ecosystems all thriving together.
Mercado de San Miguel
This indoor market is alive with Spanish cuisine, not to mention gallons of sangria. The market also hosts certain festivals throughout the year, some of which have live music and entertainment. Expect lines and crowds, but a lot of food and fun.
Formentera
Neighbour to famous party island Ibiza, Formentera has a reputation for calmer fun. The small Balearic island is renowned for pristine white beaches along its perimetre. One of the most popular beaches, Playa de ses Illetes, is on the narrow land extending towards Ibiza, where the ocean is on either side. While hotels are available on Formentera, the island doesn't have many, and most travellers take the ferry from Ibiza.
Image via Pinterest.