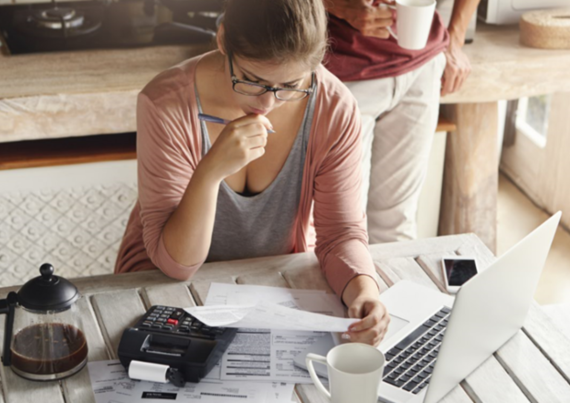 We can all admit we are guilty of splurging throughout the years on things we don't need, but one thing that will help is creating an annual household budget.
The thought of starting a family budget certainly isn't appealing. We'd sooner spend an afternoon at the dentist than mapping out our yearly finances, but it is quite the money saver.
We have conjured up the best tips and tricks that will make the entire process a hell of a lot less daunting.
An annual household budget will make your funds stretch further for the entire 365 days of the year.
1: Figure out your total annual income
The first thing you need to do is figure out what type of budget you're working with. Take a look at all streams of income, from your salary to children's allowance. Once you tally up the total amount you can get cracking on the plan.
2: Use a calendar:
Avoid the stress of an unexpected wedding or a forgotten birthday by scheduling in any big social events you have coming up in the year. Focus on your immediate family first and then branch out to extended family and friends. Once you have a clear idea of how many big occasions you have coming up, you'll be able to set aside money for them within your budget.
3: Divide the budget on a monthly basis:
Having the likes of birthdays, weddings and other pricey events noted in your calendar will make it easier to set a monthly budget. We all know some months are busier than others so don't feel pressured to set the same budget each month.
September is likely to be more expensive than February so give yourself a bigger allowance for months like that. We all know how pricey back-to-school season is.
Christmas is another costly time of the year, so be fair with your festive budget. The weekly shop is bound to cost a pretty penny with a giant turkey and all the special treats we all buy at this time of year.
4: Note the most important expenses:
There are many expenses you can set aside an exact amount of money for each month, including bills, transport and rent/mortgage. These are obviously some of the most important (and expensive) things you'll be including in your budget, so focus on covering them before anything else.
5: Always set aside money for a rainy day:
Having an emergency fund is always a good idea. You never know what event might pop up or you could have a medical emergency that you need to cover. Having additional funds for rare situations will help during stressful times, but remember it is there for emergencies, not for that heavenly handbag.
6: Remember the difference between a need and a want:
We can all admit we've wandered into Penneys with the intention of just buying that one pair of jeans, only to leave two hours later with bags full of half the homeware and shoe departments. We just can't say no to a bargain, but think of all the money we waste on things we don't need but just buy because they're on sale. Remind yourself of the difference between a need and a want and you'll be able to stick to your household budget with ease.