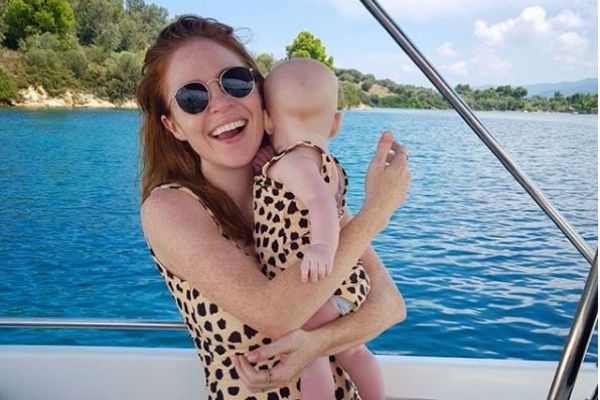 Angela Scanlon has opened up about how life has changed since she welcomed her darling daughter Ruby into the world in the February of this year.
Every mum knows just how overwhelming motherhood can be, but it is worth all the sleepless nights, smelly nappies and ear-piercing crying.
Proud mum Angela gushed about her baby girl Ruby who turned six months this weekend.
Sharing a photo of her daughter's adorably chubby feet, the doting mum wrote: "6 months on, this magical little nugget has changed our world."
"She is a funny, mischievous, nosey, beautiful little soul & I can hardly imagine a time when she wasn't here."
Angela shared that they celebrated their daughter's life with their nearest and dearest over the weekend: "Yesterday we toasted her with some of our favourite humans. Sun out, cheese by the bucketload, fizz by the barrel & a small army of children high on sugar."
She added: "Very very lucky."
Ruby is the TV presenter and husband Roy Horgan's first child. The pair welcomed their daughter on February 25, 2018.
The Robot Wars presenter announced her baby girl's arrival in a sweet Instagram post: "Ruby Ellen Horgan... Born 25.02.18 at 3.29am - she is a dreamboat & we are so happy this little woman is ours.Welcome to the world, peach," she wrote.
It's safe to say Angela has been loving all the ups and downs of motherhood.