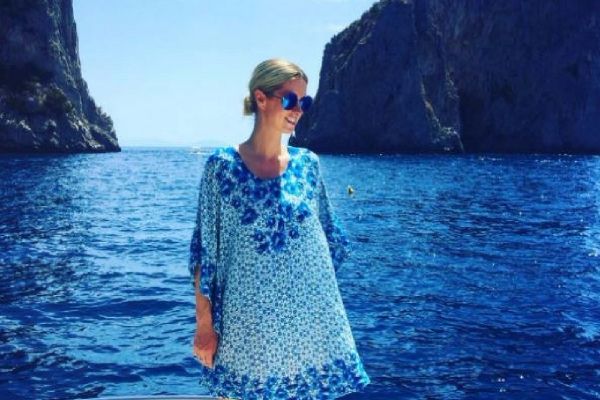 Heiress Nicky Hilton is reportedly expecting her second child. According to E!, a representative for Nicky and her husband James Rothschild said, "The couple are thrilled about the new addition to their family".
Nicky, 33, is currently enjoying a holiday in St Tropez along with James. The couple were spotted leaving their luxury yacht in the French Riviera but there was no sign of their daughter Lily who recently turned one.
Rumours have been circulating for some time that Nicky was expecting. Earlier this month, a source told The Mail Online that Nicky had been telling friends she was pregnant at a party.
"It was a Marie Antoinette costume themed party so she was wearing a corset so no one could tell," the source said.
The source revealed that Nicky hoped to have another child close in age to Lily so they could enjoy a close bond like her and older sister Paris.
"It's Lily's first birthday July 8 so they are excited,' the source revealed. 'They always wanted to give Lily-Grace a sibling close in age, like they both have".

Devoted mum Nicky gushed about loving life as a mum in an interview with E! saying: "I love it! I have an alarm clock for the next 18 years, about 5:30am every single day. But I love it! Waking up to that face - it's heaven".
Since becoming a mum, Nicky has done her best to keep little Lily out of the spotlight and only shares photos where the little girl's face is hidden on her social media accounts.
Nicky has been in a relationship with banking heir James, 32, since 2011 and the couple held a lavish wedding in 2015, with sister Paris as maid of honour.
Nicky has not yet personally confirmed that she is pregnant, so watch this space for an announcement.
After announcing her first pregnancy in January 2016, the heiress later revealed a gorgeous pregnancy photo of herself sitting beside a doll's house, cradling her bump, with soft toys and baby clothes arranged around her.
A delighted Paris confirmed her sister was expecting a girl, saying: She's going to be such a beautiful little girl, and I can't wait to meet her".
No doubt she will be very excited at the prospect of a new niece or nephew on the way!