Very, Ireland's leading online retailer, today unveils the result of a collaboration with Ireland's leading pop-artist and fashion designer Audrey Hamilton, to mark the launch of a six-figure three-year brand partnership between Very and Breast Cancer Ireland, and to highlight the upcoming Very Pink Run in the lead up to Breast Cancer Awareness month in October.
The unique and eye-catching art installation, commissioned by Very, showcases Audrey's original artwork entitled "FEMME", a piece first created by Audrey in 2020, and sold in aid of Breast Cancer Ireland, when a close friend had been diagnosed with breast cancer. The installation includes activation (through a combination of 10ft high Vinyl banners, screens and light projection) at 8 sites across the three cities, namely Dublin, Kilkenny and Cork - in which this year's Breast Cancer Ireland Very Pink Run will take place between 30th September and 8th October.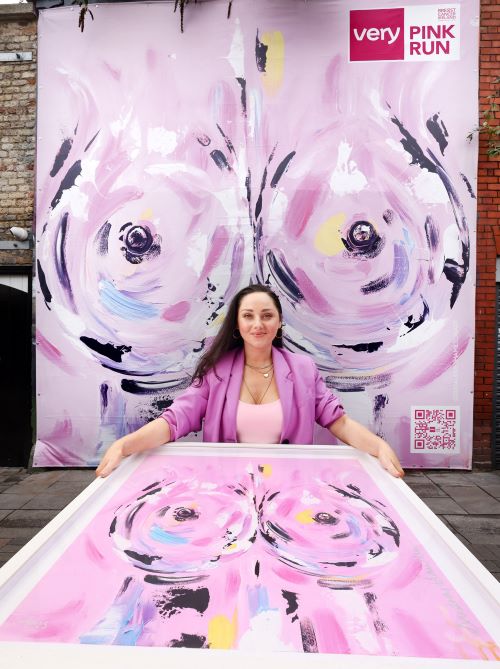 The addition of light projections will add a stunning night-time element to the display. Each piece will also carry either a QR code or a URL leading people directly to the registration page for the upcoming Very Pink Run – thus helping to drive interest and registrations in this, the charity's largest annual fundraising event. This now global event, newly sponsored by Very, has seen 78,000 participants from over 40 countries take part to date, raising over €6m for ground breaking breast cancer research into new treatments and therapies for the 1 in 9 women in Ireland diagnosed with the disease each year.
The initiative will bring this beautiful artwork to wider audiences across Ireland, and in doing so, help to drive important stigma-free conversations regarding breast health, and breast awareness amongst women (and men) of all ages.
The initiative forms part of a wider Breast Cancer Ireland Very Pink Run awareness and fundraising campaign which encompasses a heavyweight OOH, Radio, TV, digital, and PR campaign running up to and during the week of the event which takes place nationwide between 30th September and 8th October.
Speaking about the FEMME initiative, artist Audrey Hamilton said: "I'm so happy to be a part of this amazing partnership with Breast Cancer Ireland and Very for this year's Very Pink Run. FEMME holds an exceptionally dear place in my heart and I hope by being a part of this collaboration that she will be a visual incentive for people to sign up to the run, but also a reminder of the importance of getting regular breast health check-ups. The incredible work by BCI is unrivalled, and now with the support of Very and the public, this will be accelerated. I would like to encourage everyone to take part and thank the incredible teams at BCI and Very for making this a reality"
Also present at the launch of the installation, Catherine O'Toole, Head of Marketing, for new sponsor Very said "We're thrilled to collaborate with Irish artist Audrey Hamilton and showcase her beautiful FEMME painting in the cities of Dublin, Cork and Kilkenny, where the upcoming Breast Cancer Ireland Very Pink Run events will take place in the coming weeks. The story behind this work of art is special, and it's wonderful to see it in public spaces to raise awareness of breast health. With 1 in 9 women developing breast cancer during their lifetime, and 1 in 1000 men, the important work that Breast Cancer Ireland does, touches many people throughout Ireland and their families, and at Very we could not be prouder to support this incredible cause and help us all live longer, happier and healthier lives."
Aisling Hurley, CEO of Breast Cancer Ireland speaking at the launch said "We are delighted to be in a position this year to announce a new three-year brand partnership with Very, and to see this unique collaboration between Very and our long-standing friend and advocate Audrey Hamilton, come to life across so many iconic buildings across Ireland." She continued "The funds raised through this year's event allow us to continue our investment into key clinical trials that will help us change the treatment landscape positively for patients into the future."
Registrations for the Breast Cancer Ireland Very Pink Run are now open at www.verypinkrun.ie.
*Confirmed locations for the installation
Camden Row, Dublin
Parade Plaza, Butler House and McDonagh's in Kilkenny
Light projections across Merchant's Quay, Grand Parade, Oliver Plunkett Street, Patrick Street in Cork City