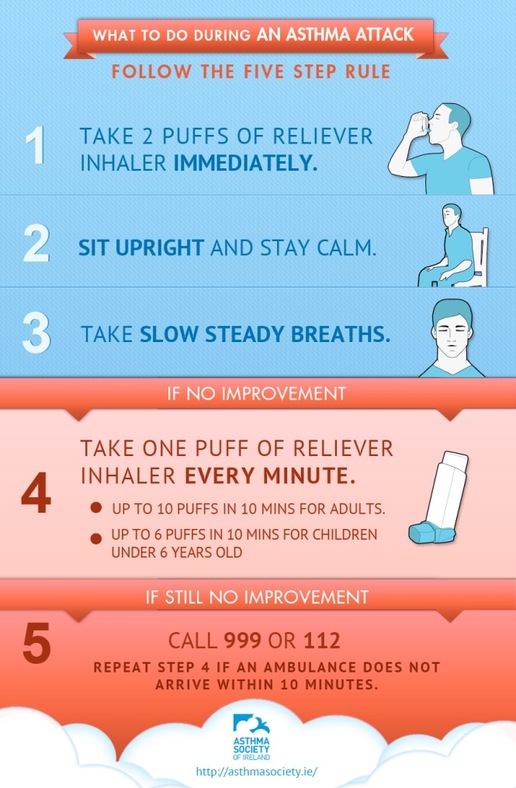 May 1
st
is World Asthma Day and this year The Asthma Society of Ireland have launched a campaign to highlight the ongoing tragedy of deaths from asthma in Ireland and have also launched a new asthma emergency information pack which is available free of charge to patients, healthcare professionals, schools and sporting organisations. It can be ordered by calling 1850 44 54 64 or downloaded at
www.asthmasociety.ie
.
One in ten people suffer from asthma in Ireland
Ireland has one of the highest instances of asthma in Europe and the fourth highest in the world with over 470,000 adults and children suffering from asthma in Ireland. It is 25 years this year since Anne Robinson lost her eldest son Alex and since then has worked tirelessly with the Asthma society of Ireland to alert other parents to the hidden dangers of asthma. "We were devastated when Alex died, we knew he had asthma but didn't realise how bad it was or that it could be fatal. The medication Alex was on wasn't strong enough, at the time there wasn't enough of an emphasis on preventative medicine and the focus was more on relief. There was nothing anyone could do when he collapsed. I still miss Alex every day and I hope that by talking about my own experience we can raise awareness and prevent similar tragedies in the future."
400 people attend the Emergency Department every week because of an asthma attack and tragically one person dies from asthma every week in Ireland. Reducing the number of asthma deaths and improving asthma control is the driving forces behind the work of the Asthma society. The society wants to make sure that everyone in the country knows how to follow the five steps outlined in the Asthma Attack Card in case you, or someone you are with, experience an asthma attack.
The five step rule outlined in the Asthma Attack Card is as follows:
1. Take two puffs of reliever inhaler (usually blue) immediately
2. Sit upright and stay calm
3. Take slow steady breaths
4. If there is no improvement take one puff of reliever inhaler every minute
- You can take up to 10 puffs in ten minutes
- Children under 6 years can take up to 6 puffs in ten minutes
5. Call 999 or 112 if symptoms do not improve after following steps 1-4 OR if you are worried.
MummyPages spoke to Dr, Dermot Nolan, from Tramore Medical Centre, Co. Waterford about what can be done to reduce the amount of asthma related fatalities. Dr Nolan earlier this year, experienced the tragic loss of a patient in his clinic as a result of asthma and knows all too well the importance of educating people about proper asthma care. Dr Nolan advised that there are a number of different reasons that asthma is on the rise in Ireland and while no one fully knows what causes it there are a lot of different factors which are likely to have contributed to the increase of patients being diagnosed including genetic and environmental. He advised that children are no longer being exposed to germs and dirt which can contribute to asthma. He also advised that in the past children were diagnosed incorrectly as being 'chesty' but increased awareness has led to more correct and early diagnoses. Dr Nolan spoke to us about how education and increased awareness will lead to a "decrease in fatalities and an increase in quality of life for those who suffer from asthma." Dr Nolan used the example of how Finland had a similar problem with asthma in the nineties but they implemented a national education program to educate people on how to manage their asthma and in just ten years fatalities from asthma had reduced by 90%. Dr Nolan believes to put an end to patients needlessly dying from asthma there needs to be increased education and every single patient needs to be reviewed by their GP. He advised that patients need to be taught the correct use of their inhalers and health management plans need to be put in place.
Dr Nolan spoke to us about how nationally patients need to be seen by their doctors once or twice a year to review their medication. He also advised that patients suffering from asthma find it very difficult to use their inhalers correctly and urged people to visit their doctors for advice or watch the
video
on the Asthma society of Ireland's website which shows you how to use your inhaler correctly. We asked Doctor Nolan what the common triggers of an asthma attack in children were and he advised us that the most common trigger is parental smoking. He warned that "while a lot of parents will always go outside to smoke, small particles will still cling to clothes and hair and unless they are showering and changing their clothes after smoking then they are potentially damaging their child."
Every patient who suffers from asthma should aim to be symptom free, according to Dr Nolan who advised that many patients are still reporting that they are waking up once a week during the night and needing to use their inhalers. Patients shouldn't be experiencing symptoms if they are using their inhalers correctly, taking their controller medication every day, even when feeling well, and following the right stress management plan from their doctor. Dr Nolan urged patients to use their "peak flow metres every morning to see whether they are in the green/amber or red zone." He urged that "while asthma can kill if it's properly managed this shouldn't be the case." For parents of children with asthma, Dr Nolan advised that if they should have an asthma attack, "they need to be familiar with how to react, know which inhaler to use and seek medical help as soon as possible."
For more information visit
www.asthmasociety.ie
, call 1850 44 54 64 or follow us on facebook, twitter and YouTube.