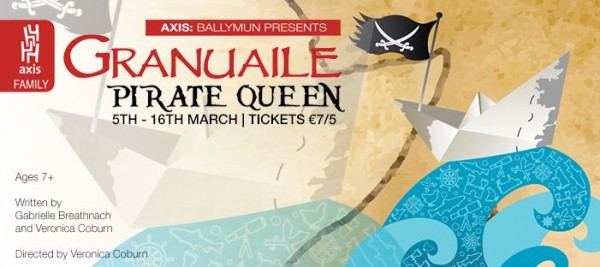 Axis Ballymun is set to unleash a swashbuckling tale of adventure, rebellion and swordfights in their flagship show for Spring 2016, Granuaile, Pirate Queen.
The play, directed by Veronica Coburn, is a piece of interactive storytelling for all the family about Ireland's Pirate Queen, Granuaile, otherwise known as Grace O'Malley.
Gabrielle, a storyteller, visits a classroom with her annoying brother, Karl, an investment banker.
Through Gabrielle, we meet Granuaile, a fiercely determined girl who challenged the social restrictions of 16th century Ireland and followed her dream to go to sea, becoming one of the most infamous and fearless figures in Irish history.
Suitable for ages seven and up.
Date:
Saturday, 5th – Wednesday, 16th March 2016
Tickets:
€7/€5
To book tickets, click here