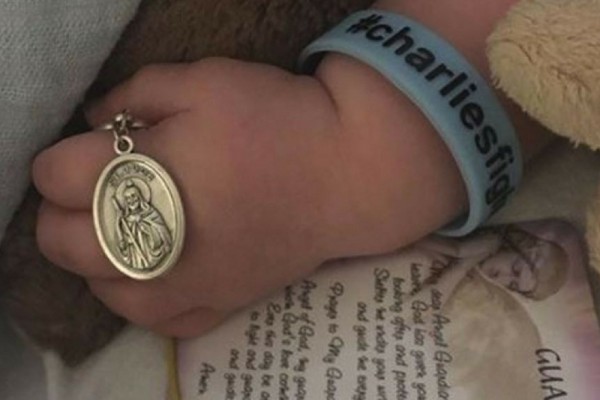 The parents of baby Charlie Gard are believed to be considering an appeal following a ruling that their son should be taken off life support.
Yesterday, a High Court judge ruled that Charlie's life support ought to be discontinued to "allow him to die with dignity".
The ruling is the result of a legal battle between Charlie's parents, Connie Yates and Chris Gard, and Great Ormond Street Hospital. The hospital wanted Charlie to be moved to palliative care, while his parents wanted a chance to bring him to the USA for treatment there.
Charlie suffers from a rare mitochondrial condition which affects his muscles, kidneys and brain; and, unfortunately, it has no cure. He is being kept alive by a ventilator.
His parents, from Bedfont in south-west London, contest that the little boy shows signs of growing stronger, reacting to their presence and enjoying their touch, but doctors say he has suffered irreversible brain damage.
Charlie's parents had begged the court to give him "one chance of life", but yesterday, the judge ruled against them.
The judge said that the treatment in America was not in Charlie's best interests, as it could not reverse his severe brain damage and could cause him pain.
The ruling came after Charlie's parents raised £1.2 million to take him to America for the new treatment.
The couple now have three weeks to ask for permission to appeal the ruling according to The Mail Online. Permission to appeal can be granted if their lawyers can present new evidence or a new challenge to the law.
Charlie's parents have vowed to continue their fight.
Last night, they rushed straight to his bedside following the ruling. They later posted a photo of Charlie clutching the medal of St. Jude, the Catholic saint of hopeless causes. The sad caption read: "No words, just devastation."
Lawyers for Charlie's parents said they wanted to help them challenge the ruling and take the case to the Court of Appeal.
The couple's solicitor, Laura Hobey-Hamsher, said: "Connie and Chris are facing every parent's worst nightmare.
"They are struggling to understand why the court has not at least given Charlie the chance of treatment in America."
She added that 'lessons need to be learned' from the case, including 'how medical professionals face decisions such as this, how they act with sufficient speed, and how they communicate with the families of desperately ill children such as Charlie.
"It is regrettable and inexplicable that much of the reasoning for their decisions only came to light after proceedings had been issued," she said.
The court had heard that Charlie's parents were described as a "spanner in the works" by one doctor after the couple did their own research on his illness.
Despite the ruling, donations are still pouring in to Charlie's fund. Connie has said that if they are unsuccessful in their fight to take Charlie to America, the money will be used to help other children with similar mitochondrial syndromes and fund further research.