Irelands leading baby brand Baby Elegance set to plant one tree for every cot or bed sold this year in their own Little Buds Forest, an initiative to give back to the environment with a target of 25,000 native trees over the next 12 months.
With Irelands leading family run baby brand turning 40 this year, the Baby Elegance founding team are putting sustainability and the environment at the forefront of their business ethos, introducing major green changes to the business operations as well as growing their own forest, little Buds Forest Roscommon, with the first 6,500 native trees getting planted this week in collaboration with forestry and ecology company Veon.
Baby Elegance are set to plant one tree for every cot or bed sold from their own stores as well as their retail partners across Smyths Toys, Argos and all of their independently owned retailers nationwide.

Native trees including oak, birch, and hazel tend to grow for 100's of years and are not typically cut down in 20 years for lumber. Baby Elegance have identified their first forest in Roscommon Ireland, where the planting process will begin. Joe Codd from Veon commented "This initiative will enhance flora and fauna habitats for native Irish species such as red squirrels, stoats, endangered bird species and other native wildlife. Planting native trees and creating new native woodland, forest owners provide a range of other ecosystem benefits such as preventing flood risk, soil conservation, protecting wildlife and boosting biodiversity. This has a very positive effect on local communities by enhancing the natural environment."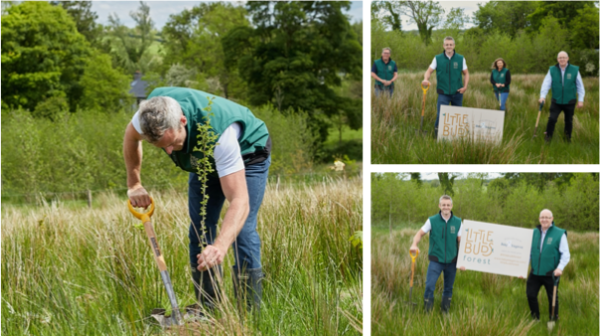 A broadleaf oak forest on average sequesters 6.60 tonnes of CO2 per hectare per year and a rotation may be 100 years long. The Little Buds Forest is 2.24 ha in size and as such will sequester an estimated 1,478 tonnes of CO2 over its lifetime. The founding team feel a duty of care to the environment, and as a baby brand they are inherently passionate about what the earth will look like for future generations to come.
As well as their forest initiative, Baby Elegance have made some significant changes to ensure the business model is moving in a more green and eco-friendly direction, including the Baby Elegance sales representatives now using a fully electric Kona to help in reducing their carbon footprint whilst travelling around Ireland.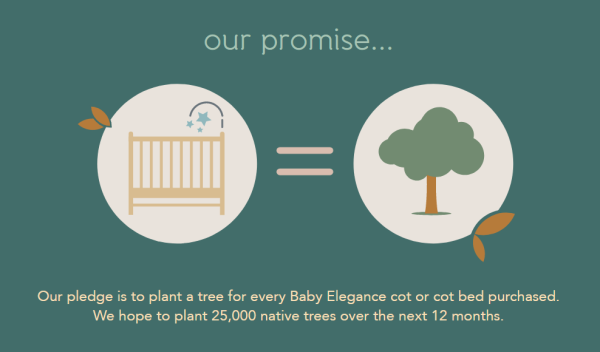 As well as switching to an electric vehicle, Baby Elegance have also invested in a specialised machine which allows for all of their Irish made mattresses sold, to be roll packed. This reduces packaging size by more than 60% and plastic usage by 75%.
Gavan Costello sales director of Baby Elegance expresses "We are 40 years in business this year, and we hope to still be here in 40 years' time! If we want to do that, we need to act now to ensure we are giving back to the environment by making more sustainable decisions. I am extremely passionate about sustainability and offsetting our carbon footprint. I am thrilled to be planting Little Buds Forest & I look forward to telling our customers that the cot that their baby will sleep in, will represent one tree in our forest, a symbol of hope for future generations to come. It is important that all manufacturing businesses establish a greater connection to the earth and to the environment"
The first Little Buds Forest will be planted on the 3rd of June 2021 in Roscommon, and Baby Elegance hope to plant their second forest by the end of 2021, when the new planting season begins.
For more visit https://www.babyelegance.com/littlebudsforest/.