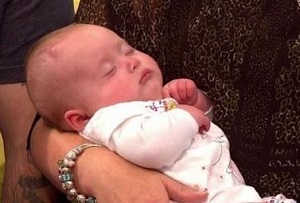 A baby has become the first person in the UK to undergo surgery for spina bifida while still in the womb.
Little Frankie Lavis, who was diagnosed with the condition during her mum's 19-week scan, underwent the revolutionary procedure at just 24-weeks-old in the womb.
Frankie's parents Gina Beddoe and Dan Lavis had been offered the choice of a termination or an operation after Frankie's birth.
The couple researched the condition and discovered that there was a procedure available outside of the UK, whereby babies in the womb could be operated upon.
Doctors at Derriford Hospital in the UK arranged for baby Frankie to undergo the surgery in Belgium, with the procedure taking place during Ms Beddoe's 24th week of pregnancy.
The operation, which was funded by the NHS, required more than 20 surgical staff and lasted over two hours.
Baby Frankie was born in late August, with her parents describing her as 'perfect'.
Since her birth, Frankie has had to receive a skin graft to cover the artificial skin patch from the surgery, and has also had a shunt fitted after fluid began to build up on her brain.
While it is too early to tell whether Frankie will walk, the strength in her legs has been described as normal.