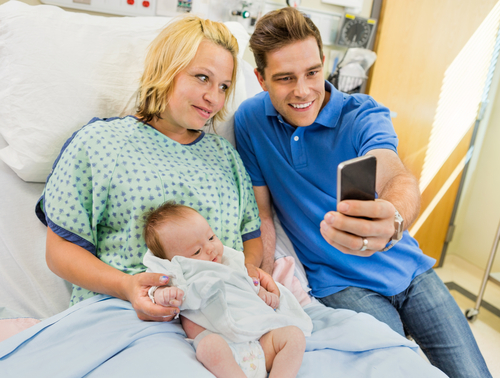 As soon as you have your baby, you will no doubt start to think about taking their very first photo. Whether it is a professional shoot or you are just taking one with your digital camera or phone, there are a number of ways you can be prepared.
Think about the type of photo you want
Before you take the shot, think about the type of photo you want to take. Have a look at what other people did – you may like a more laid-back, fun shot or a more serious photo. Whatever you decide is up to you but just make sure you know what you want when the time comes. If you can't decide, why not go for one of each.
Turn off the flash
Make sure the flash is turned off. Not only is it not fair on your baby to have a bright light in their eyes, it will also give you a better, more natural picture.
Think colour
Think about what your little one is or will be wearing. If they are dressed in a white sleep suit, you will need to lay them down on a blanket or towel with a little bit of colour and vice versa. The last thing you want is to have your baby blend into the background.
Get up close
Get up and close with your baby and capture every single adorable wrinkle or crevice on their face. It's these kinds of shots that you will treasure for ever when your little one is big and bold.
Don't forget the background
Think about the background when you are taking the picture. You might like to include some of the hospital bed in the picture, have their first picture in mum's arms, or be outside. Whatever location you choose, factor in the background, it can really help to capture a moment in time.
Relax
Taking the first shot can be pretty nerve-wracking for some people – usually caused by their own need to capture the absolute perfect image. Don't panic though, just take lots and lots of different shots so that you will be able to choose your favourite.
In a few years time you will look back on that picture and remember just how happy and excited you were. This is your photo so capture whatever you want.