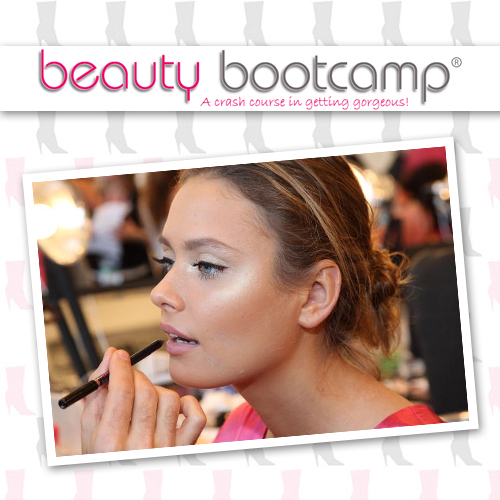 Set up in 2007 by IMAGE magazine's Beauty Editor, Liz Dwyer, Beauty Bootcamp is an exclusive one-day interactive course that teaches you essential hair and make-up skills. We sent one of our mums to test it out and tell us what she thought.
I'm sure that most mums out there will know the battle that it is in the morning to get their little ones ready for school while trying to find 5 mins to make themselves feel presentable for the day.
I'm not one who generally wears makeup during the day but when I do, say for a business meeting or an event, I generally throw on a little foundation, powder and mascara.
My hair is a different story, I always like to have my hair looking nice but …. It tends to be the same every day.
So I was delighted to be invited to attend the beauty boot camp on Saturday. I was hoping that I'd come away with a couple of tricks of the trade that would save me plenty of time. And I did.
Arriving at 9.45am for a day of hair and make-up was exciting and nice change from standing at the sidelines of a football pitch!
In the waiting room there were women of all ages there, from early twenties through to late fifties. Some had come with a friend or a sister, others, like myself had come on their own. But there was plenty of mixing and chatting throughout the day.
The course started at approx. 10am and began in the well-equipped hair room. After a brief introduction by our tutor she did a quick go-around all of the attendees to find out what we all hoped to leave with after the session. Pretty much everyone had the same requests, hints/tips/tricks/time-savers.
We were brought through basics from holding the hairdryer correctly to doing an up style. We did it all ourselves under the guidance and instruction of our tutor. We also were shown how to use hair appliances correctly – this was a godsend for me. I bought a 'wand' two years ago. I ended up looking like a cross between a Poodle and Albert Einstien the one and only time I used it! And found out on Saturday that I used it upside down!!!
Lunch, which is not provided, is an hour. There are plenty of cafés nearby.
Upon our return, it was the make-up tutor's time to transform us. We were brought into the make-up room, which was jam packed with different products.
After a go around to hear our wishes, we got to work straight away. I had never contoured my face before! Indeed I had no idea what contouring was – but after this introduction to it I will be popping out to get myself some bronzer and concealer. And it only took about a minute to do! Then we worked on eyebrows and eyes and a quick hint how to bring a day eye to a night time full-on smoky eye.
I had been hoping to learn how to do the eyeliner flick but we didn't have time to do this and apparently it is very difficult to teach as it is a matter of practice, practice, practice.
The day finished with a glass of bubbly for everyone and an opportunity to buy some of the products that were used throughout the day. Everyone seemed pleased with what they had learnt during the day. I certainly was.
So if you are going to treat yourself for a day, and as mums I think we all deserve a treat every now and then, try and arrange to meet up with a friend or a special someone afterwards for a glass of vino or even a little bite to eat because you'll be dolled up to the nines.
Beauty Bootcamp is taught by a team of leading international hair and make-up artists, who can reveal all the insider tricks-of-the-trade and the professional techniques used backstage to transform models and actresses from plain to phenomenal. You can choose from classes that provide general beauty tips as well as classes that cater for specific age groups such as Fabulous 50s. To book your place, visit
www.beauty-bootcamp.com