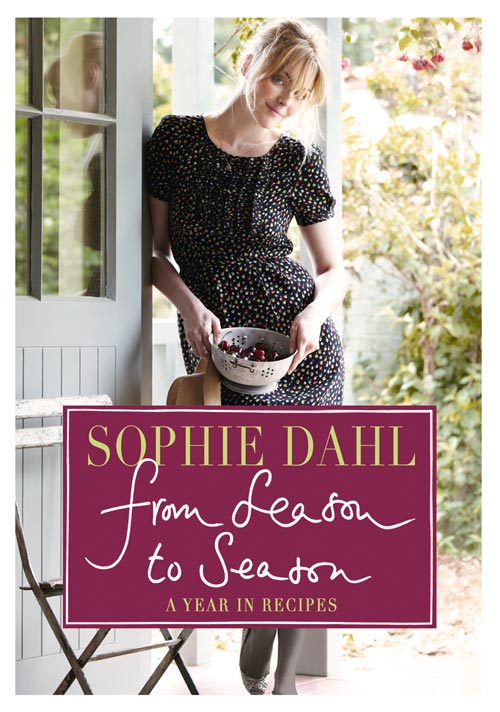 Sophie Dahl's new cookbook 'From Season to Season' is a charming and heart warming culinary journey through the seasons. Sophie is the famous model turned author and 'From Season to Season' is her second book that continues on from her first cookbook 'Voluptuous Delights'. It is part recipe collection and part food memoir. Ms Dahl's cookbook is a delightful rarity that combines easy and simple recipes with anecdotal musings about her own food experiences. The book is scattered with decadent photos that contrast perfectly with the simplicity of the recipes. The cookbook is filled with over 100 recipes that are divided by season and then broken up into three main categories; breakfast, lunch and supper. (There is also a sumptuous section on puddings, so you needn't worry!)
The recipes are effortless and there is something for every mummy. Sophie uses simple, everyday ingredients which work seamlessly together. To enjoy this cookbook you don't need buckets of time and experience, just some basic and readily available ingredients. The cookbook begins by inviting you to try some wondrous autumnal fare such as spelt French toast with smashed blueberries and blackberries as a warming breakfast option and baked pumpkin with lemon, sautéed greens and toasted cumin dressing as a delicious choice for supper.
Winter dishes include porridge with poached plums for breakfast and a warm winter curry with saffron cinnamon rice. The book leaps into spring with recipes that awaken memories of crisp spring mornings and the promise of longer evenings. The author promotes the use of fresh and seasonal vegetables and her spring recipes are a nod to this love of seasonality. Breakfast recipes include rhubarb rice pudding, and a lunch of pea, pesto and basil soup. Summer is delicately imagined as breakfasts of grilled peaches with ricotta and toasted pistachios and perfect summer suppers of chicken summer stew. Let's not forget the aforementioned pudding section; this cookbook has some delicious dessert options from poached winter fruits with crème anglaise to the perpetually summery Ruby Frais strawberry semifreddo.
What I adore about this cookbook is the wonderful array of breakfast recipes, as I always seem to find myself left with the decidedly uninspiring breakfast options of either cereal or toast. This cookbook celebrates breakfast as it should be and there are some truly fabulous recipes that are healthy, delicious and fussy-eater friendly! My favourite breakfast recipes include apple and raspberry cereal, strawberry pancakes, gooseberry yoghurt and tomato tofu basil scramble.
This cookbook is ideal for any mummy who wants to try some quick and easy recipes made from fresh and seasonal produce or for anyone who just wants to get lost in the magical food memoirs that are so lovingly dotted throughout the book.
'From Season to Season' by Sophie Dahl is published by HarperCollins