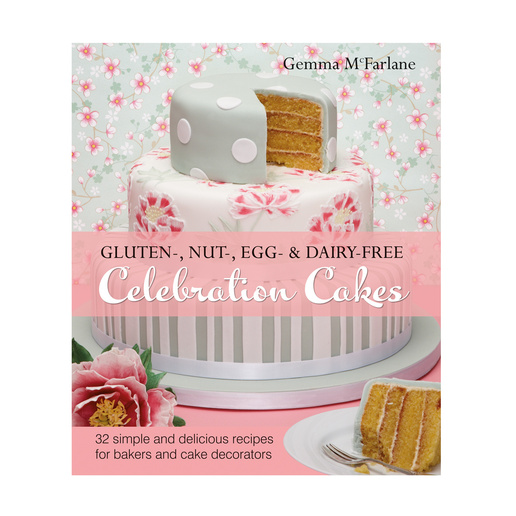 Home baking is having a bit of a moment of late so it only seems fair that everyone should get to join in. As mums know, baking the perfect cake for a family celebration can bring with it a wonderful sense of accomplishment but it can also be stressful particularly if you're baking for someone with a specific dietary requirement or food allergy.
This is why we were delighted to get our hands on a copy of "Gluten-, nut, egg-and dairy free celebration cakes" by Gemma McFarlane. Gemma has catered for many allergy sufferers with great success and this unique book is packed full of delicious recipes for dairy-free, gluten-free, egg free and even vegan celebration cakes and cookies. If you have ever been asked to make a vegan friendly cake and just not known where to start or if a member of your family has a gluten or dairy intolerance then this is the book for you!
This book by Gemma MacFarlane is filled with all manner of delicious gluten, egg and dairy free recipes for every celebration imaginable. From basic cake recipes such as carrot cake and coconut cake to breathtaking cakes such as the adorable doll's house and patchwork cake and a show-stopping gluten and dairy free Croquembouche.
This book features lots of really useful tips on how best to decorate celebration cakes for all occasions, from christenings to weddings and everything in-between. The book is rather cleverly divided into sections for different diets and includes all you need ever know about making delectable cakes for special diets.
Gluten-, Nut-, & Dairy-Free Celebration Cakes by Gemma MacFarlane is published by B.Dutton Publishing Ltd, RRP £16.99