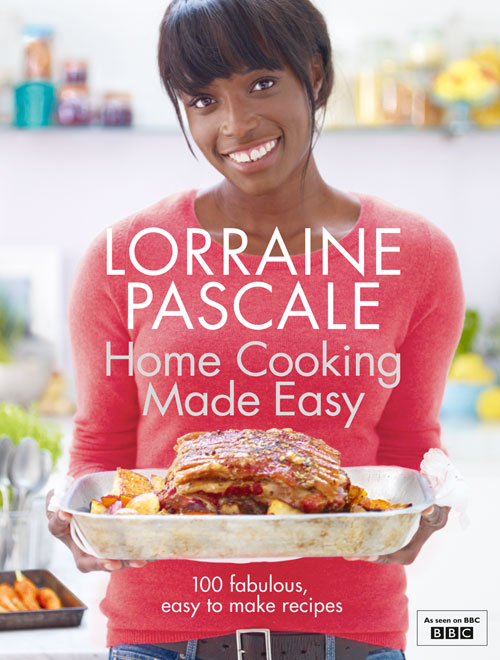 Lorraine Pascale shot to fame with her first BBC cookery show 'baking made easy' and the release of the subsequent book of the same name. She is being hailed as the new Delia Smith and with her new book 'Home cooking made easy' MummyPages can see why! Famous for her impressive baking skills, her second book features 100 home cooked mouth watering meals which manages to pack in roast dinners, and re-imagined family favourites. The book features some fabulous recipes that are quick and simple; perfect for the busy mummy! The book design is simple and easy to navigate packed with stunning photography designed to whet the appetite.
Lorraine Pascale injects her warm and infectious personality into all her recipes which can best be described as family friendly classic meals with a twist. Lorraine draws inspiration from her travels and creates recipes that are perfect for autumnal afternoons and cosy winter evenings. The recipes include warming soups and roasts that make one want to draw the curtains, lock the doors and hibernate until spring! The book is divided into chapters; starters, soups, canapés and snacks, breads, mains, vegetables and vegetarian, desserts, cakes and cookies, sweets, jams and other good stuff.
Recipes include delightful snacks and canapés perfect for entertaining friends; goat's cheese truffles, sausage roll's big night out, and satay chilli chicken. There are recipes for delicious heart-warming fare such as; duvet day chicken noodle soup, warm and cosy coq au vin, pot roast beef with port and juniper berries and rioja braised lamb shanks with chorizo and garlic. There is a wonderful chapter on home made breads that include recipes like spring onion and red chilli cornbread and twenty first century ham, cheese and chive bread. There is also a great vegetable and vegetarian section which includes some delectable recipes such as stilton, pear and poppy seed tartlets and lemony basil spaghetti with mascarpone, chilli, and chives. The chapters dedicated to desserts, cakes and biscuits for which Lorraine is most famous do not disappoint, there are scrumptious desserts including; my big fat tipsy trifle and extra gooey pecan pie with brown sugar pastry. The book also features the very impressive graffiti cake complete with a toffee collar that looks stunning and tastes even better. It would be ideal for a birthday party or a special occasion.
The really wonderful thing about this cookbook, especially for mummies is that these recipes are simple, easy to follow and take very little time to make. Ingredients can largely be found in your local shop or supermarket and recipes are very child friendly featuring perfect family dinners like; mum's chilli con carne, my dad's really very good lasagne and decadent rosemary and worcestershire sauce shepherds pie. There is something for everyone in 'home cooking made easy' and it really delivers in providing recipes that are quick and easy and most of all delicious. This is a cookbook that should be every mummy's kitchen best friend, whom you can rely on to always be there in times of cooking emergencies!
'Home cooking made easy' by Lorraine Pascale is published by HarperCollins.