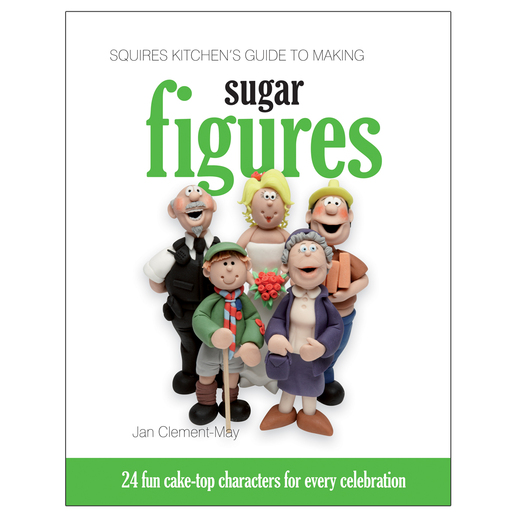 All mums know the joy of seeing their little one's faces light up when presented with a beautiful, unique and personal cake on a special occasion such as a birthday, communion or confirmation. And what better way to decorate your cakes than with colourful figures made especially for a special family member or friend.
Talented and ever popular sugar artist Jan-Clement-May shows you in this fabulous book just how easy it is to model and personalise figures in sugar dough using simple tools. She explains in easy-to-follow steps what the basics of modelling in sugar dough are and then she expertly covers three popular subjects, occupations, hobbies and celebrations.
So, whether you are making a cute baby boy or girl to sit on top of a christening cake, a sparkly fairy for a birthday cake, or a happy bride and groom for a wedding cake then look no further then 'Squires Kitchen's guide to making sugar figures'. Each figure is beautifully photographed step-by-step and there are also some fabulous cupcake ideas to match your show-stopping cake! Some of our favourites include the pretty ballerina figure with matching ballet shoes cupcakes, the cheeky astronaut figure with matching rocket cupcakes and the adorable baby figure and bootie cupcakes. This gorgeous book has a sugar figure to suit every occasion from birth to retirement and everything in between. Whether, you're planning a party or want to give someone a unique, personal gift then this is the book for you! It's also a wonderful way to get your budding little artists involved in the kitchen and it's sure to keep little hands entertained and busy for hours.
Squires Kitchen's Guide to Making Sugar Figures
by Jan Clement-May is published by B. Dutton Publishing Ltd., RRP £12.99. Available from bookshops and direct from the publisher at
www.squires-shop.com
.