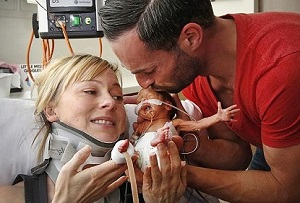 A terminally ill cancer patient has given birth to her baby three months early so she can fight for her life.
Michelle Buccholtz welcomed her baby daughter, Ava, into the world last Friday amid doctors' fears that she wouldn't live long enough to see out her full pregnancy.
With her fiancé Alex Ansalone by her side, 38-year-old Michelle met her beautiful daughter for the first time after she had been stabilised, with nurses gently touching Ava to her mother's cheek.
Michelle, who sadly lost two babies during her previous fight with the illness, discovered halfway through her pregnancy with Ava that the cancer had returned and spread to her bones.
Fiancé Alex has been campaigning and fundraising tirelessly for alternative treatments in the hope of prolonging Michelle's life.
Speaking to The Daily Telegraph, new mum Michelle said that she felt 'mixed emotions' when she first met her daughter, who was delivered by caesarean.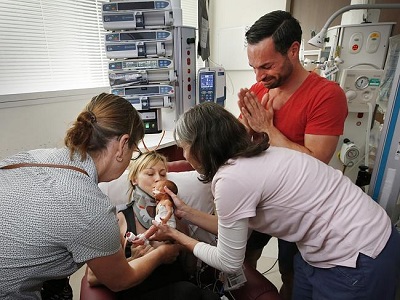 "It was difficult to be totally happy initially. I was looking at her thinking, 'Oh my God, I'm not going to be here'. But when they put her on my chest a couple of days later, everything sank away," she said.
She added: "It was beautiful. She was crying a little bit, but once she was on me she soothed."