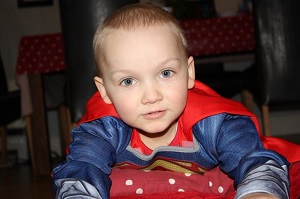 Extremely sad news this morning as it was announced that superhero Gavin Glynn passed away last night.
The four-year-old, who suffered from a rare condition known as Embryonal rhabdomyoscarcoma, had recently returned home to Ireland from the US, where he had been receiving treatment.
His parents, Jayne and John took to the 'Gavin's Journey' website to share the heartbreaking news of Gavin's passing, writing:
"Rest in peace our beautiful baby. You fought the hardest fight anyone could imagine and all the way to the end. You are and will always be our Superman. Gavin passed very peacefully tonight with Conor, Lucy myself and Jayne holding hands on our couch at home. Fly high buddy we all love you so much xxxx"
Brave Gavin was at the centre of the 'My Boy' campaign, a fundraising campaign started in the summer to raise money for his treatment.
Our thoughts and prayers are with Gavin's family at this very sad time.