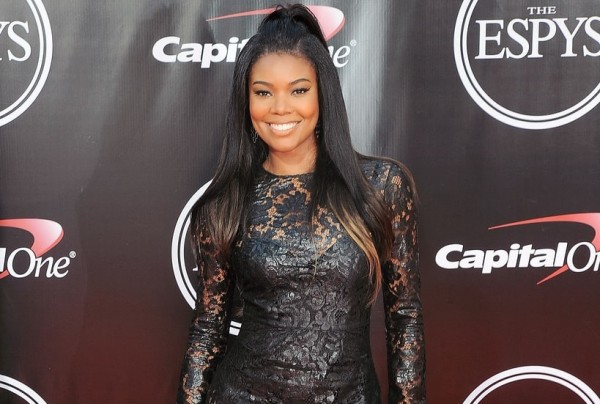 She previously condemned the 'scarlet letter' stigma associated with women who put their career before a family, and now Gabrielle Union has spoken candidly about another issue: infertility.
The actress – best known for her roles in Bring It On and Being Mary Jane – revealed that she has suffered 'eight or nine miscarriages' in her quest to start a family.
Gabrielle, who has been married to NBA star Dwayne Wade for three years, made the revelation in an excerpt from her new book, We're Going to Need More Wine.
In an extract shared with People, the 44-year-old admitted: "I have had eight or nine miscarriages.
"For three years, my body has been a prisoner of trying to get pregnant – I've either been about to go into an IVF cycle, in the middle of an IVF cycle, or coming out of an IVF cycle."
Despite the heartache and frustration of the experience, Gabrielle insisted that she and basketballer Dwayne still 'remain bursting with love and ready to do anything to meet the child they've both dreamed of'.
Dwayne is already father to two sons from a previous relationship: 15-year-old Zaire, and 10-year-old Zion. He also cares for his 16-year-old nephew, Dahveon.
Gabrielle plays an important role in the boys' lives, and she told People that it's her experience as a step-mother that ignited her desire to have a baby.
"I never wanted kids. Then I became a step-mum, and there was no place I'd rather be than with them," she explained.
Gabrielle previously expressed her frustration over the antiquated attitudes towards women and mothers in the workplace.
"The reality is that women are discriminated against in the workplace for being mothers," she said, in an interview with Redbook.
"As much as there are strides being made, you get pregnant and your career takes a hit: you can't have a bad day; don't you dare cry at work; don't raise your voice – especially if you're a black woman in corporate America."
At the time of the interview two years ago, Gabrielle admitted that children 'had not happened for her', and she blasted the 'shaming' of those who have put career ahead of motherhood.
"The penance for being a career woman is barrenness. You feel like you're wearing a scarlet letter," she said.
We have so much respect for Gabrielle, for opening up on such a raw and personal topic. We hope her honesty will help others who are going through the same.