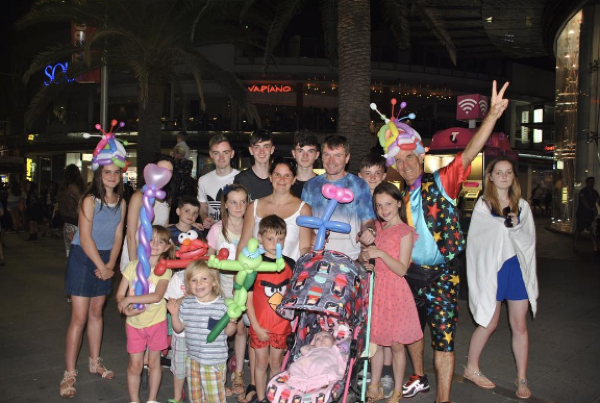 The Radford family had their last child, little Phoebe, in July last year, and are currently expecting another.
But seven months after the birth of Phoebe, the family took to social media to make the announcement that were, in fact, expecting baby number TWENTY.
Sue and Noel Radford, from Heysham, in Lancashire, showed a chalkboard with, "Boys – 10, Girls – 9, and baby makes 20," with the new arrival due in September.
Hundreds of people have taken to social media to comment on the picture, sending their congratulations to the happy family. "I had a baby around the same time as your last one, and couldn't imagine being pregnant already," one mum wrote.
"I have four and often think how crazy I am for having so many!! You are a natural," wrote another mum, clearly in awe of Sue.
Another follower said, "Forever growing family I can't wait to meet the newborn family member 8th September. It's a girl I think. Congratulations to you all xx."
Noel and Sue were childhood sweethearts, and had their first child when Sue was just 14. Despite the fact that they were so young, the couple decided to keep their baby as they had both been given up for adoption.
Sue and Noel's eldest child, Chris, is now 27, and their youngest child is just seven months old.
In order to support their family, Noel works as a baker at his family business and leaves for work at around 5am every day, but comes home to get the kids ready for school, and take them to class in a minibus.
Sue stays home to look after the smallest kids, and has to do at least nine loads of washing every day to stay on stop of things.
The family have a weekly food budget of around £300, which includes 18 pints of milk and three boxes of cereal every single day.
Congratulations to this ever-growing family!