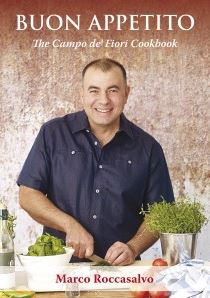 Marco Roccasalvo's new cook book, Buon Appetito, would make a great gift for the food lover in your life, and for every book sold €1.00 will be donated to the Irish Institute of Clinical Neuroscience to help fund brain research.
Owner and head chef of Campo de' Fiori Restaurant and Risto Market in Co. Wicklow, Marco is an experienced chef and his love of food shines through in his book.
The recipes are personal and express his love of food from an early age. The Tiger Prawn recipe reminds the chef of how, when he was a young boy, he would eat the prawns from the local fishmonger in Italy raw. Using any kind of sea prawn with this dish, Roccasalvo's main objective is to enhance the wonderful natural flavour of fresh prawns.
Marco likes to combine strong flavours with contrasting colours as can be seen in his Risotto with Cuttlefish Ink recipe, and his Hunter Style Rabbit recipe is a classic Italian and one of the most popular ways to cook rabbit. However, if you are just looking for a simple, nutritious and healthy recipe, try his Hake with Tomatoes and Basil - perfect for a quick, tasty dish.
The chef even offers wine advice on his recipes: he recommends a dry white wine, not too aromatic and with good acidity, for his Risotto with cuttlefish ink and a well-structured red wine such as Barbera d'Alba to accompany his Hunter's Style Rabbit dish.
With easy to read recipes and wine selection sorted, Buon Appetito should be on the kitchen shelf of every Italian food lover.