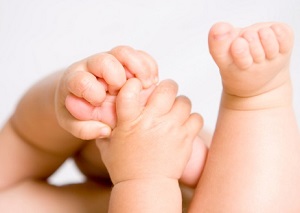 A woman who was diagnosed with brain cancer just weeks into her pregnancy has given birth to her "miracle baby".
Julie Prater, 32, was diagnosed with the most malignant brain tumour in humans, a Grade 4 glioblastoma, at just eight-and-a-half weeks pregnant.
Julie and her husband Luke feared for the worst after her diagnosis, with the tumour growing rapidly, forcing her to undergo serious invasive surgery to try and remove it.
With some harmful cells still remaining, Julie was then advised to undergo radiation therapy.
Naturally, Julie was terrified of the harmful risks the therapy would present to her unborn child, but reluctantly decided to go through with it. Twice during the treatment doctors feared that Julie would miscarry.
However, Julie and her baby battled through, and little June Lane was delivered earlier this week, weighing in at six pounds.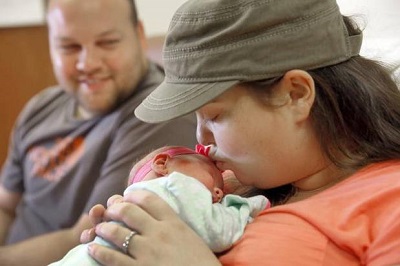 "June made it through twice," said Julie, adding, "We've had a lot of prayers, a lot of people helping, and we couldn't have done this without everyone."
Now that June has been delivered safely, Julie is adamant that she is going to beat her illness.
"We live each day to the fullest," said Julie, revealing that she is now set to undergo chemotherapy.
We wish her a very speedy and full recovery.