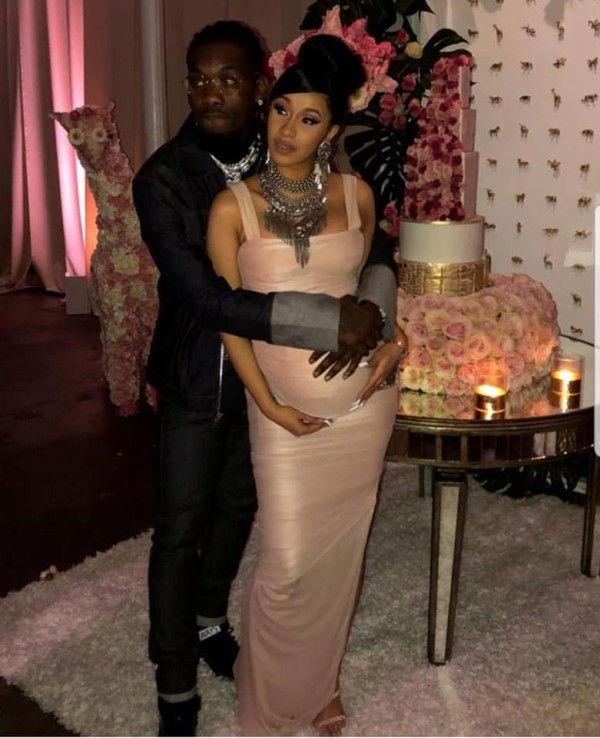 Dubbed ''Bardi shower: A Bronx Fairytale'', Cardi B's baby shower took place in serious style last night in Atlanta.
Rather than a demure tea-and-cupcakes affair, the hip-hop star instead chose to celebrate with a full-on late-night bash. And why not?!
Cardi's New York hometown of Bodega was referenced throughout the party, which can be seen in the videos that her husband Offset captured.
Guests gorged on cupcakes as well as a massive floral cake, which can be seen in the Instagram snaps.
The 25 year old hip-hop star, who is expecting a baby girl, is reportedly due to give birth in July.
She had previously told Rolling Stone what her dream baby shower would be like.
"I want a lit baby shower. My baby shower's not starting at no 5:00," she said.
"My sh*t is going to start at 9 p.m. because that's how I celebrate, that's how Caribbean people celebrate," she said. "I don't like baby showers that be at 5 p.m. in the backyard, eating, cooking hors d'oeuvres."
Cardi herself stuck to the colour scheme of the shower by choosing a baby pink sleeveless bodycon dress complete with her typical bling - chandelier earrings a huge layered necklace.
There was also a dance floor and a library filled with baby books, according to Harpers Bazaar.
Cardi B recently revealed on Twitter that she had married her boyfriend Offset in September 2017 in their bedroom.
''One morning in September we woke up and decided to get married. We found someone to marry us, and she did, just the two of us and my cousin. I said I do, with no dress no make up and no ring!''
If the secret wedding is anything to go by, they might keep the news of the birth private for a while too. Wishing you all the best, Cardi!