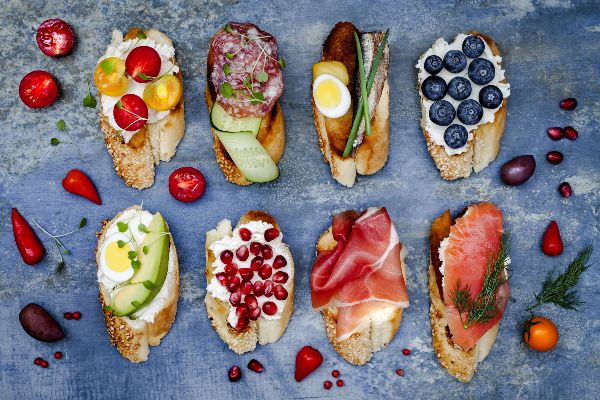 It can be daunting preparing food for all the guests at a party or gathering, here are some details to make it stress-free.
Here are my top tips when catering for a group:


Keep it simple - Don't try to make too many dishes and don't complicate it by making a dish you have never made before.

Plan ahead - You want to enjoy the time with your guests so do as much preparation as you can in advance.

Ask for help - If it is a family occasion, why not ask Aunty Mary to bring her famous salad to add to your buffet or your sibling to bring a dessert? If it is a large group, why not hire a waiter so you can totally switch off once the guests arrive.

Buffet style - I think a buffet-style meal is ideal so that you aren't sweating it out in the kitchen plating dishes etc. but chatting to people as they select the food they want and then they don't feel awkward if they don't like a particular food.

Join the party - there is no point doing all the work and not enjoying the time. I suggest avoiding a menu that needs last-minute attention.

Schedule time for you - Make sure you have sufficient time in your schedule for you to get ready and if necessary to help children get ready. The aim is to be relaxed and ready when your guests arrive.

Give a job for all the family - Get everyone involved, from getting the house ready, setting a table, preparing food to tidy up, there are plenty of jobs that can be delegated according to each person's ability.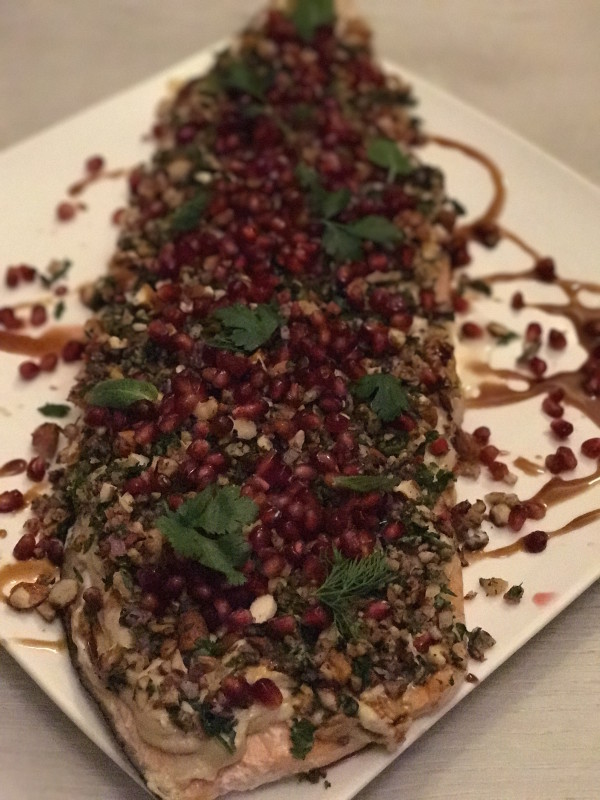 I like entertaining but have most of the dishes prepared before anyone comes in the door so that I can enjoy the company of my family and friends rather than being stuck in the kitchen.

Below is a description of my quick and easy entertaining cookery class. As always, my philosophy is that while you may have lots of cookery books you may only make a small percentage of those recipes but if you see it being made, smell it and taste it and get to ask questions or note tips you are much more likely to make it. I have modelled the menu around the classic Irish Beef, Salmon or Chicken options!

Salmon Pomegranate - this really tasty and different salmon dish, photo above, is a beautiful centrepiece for any buffet. It is served at room temperature so can be put together an hour or more before your guests arrive

Marinated Beef with Horseradish Creme Fraiche - An amazing dish that is so tasty and versatile. The beef is marinated a minimum 24 hours in advance, you can use it for dinner parties, BBQs or buffets. This recipe was my best selling when I ran my catering business, it is a real winner and my kids adore it.

Chicken Tikka Masala - This mild curry is so tasty, it can be adapted for a slow cooker if you have one so you can put it on hours before your guests arrive and forget about it.

Quinoa Salad - This is a very simple, tasty and nutritious salad. I will show you a fool-proof method to cook the quinoa and you can vary the salad to your liking, can easily be made in advance.

Spiralised beetroot salad with goats cheese and walnuts - I love goats cheese and beetroot! This salad is really tasty and looks great. Once the beetroot is roast, I top it with a great dressing and the beetroot absorbs all the flavours. While the beetroot and dressing can be done in advance, I add the walnuts and goats cheese no more than an hour before serving.

Labneh Cheesecake - This healthy delicious dessert can be made in advance and topped with whatever fruit is in season. It is not a traditional cheesecake and isn't complicated to make. It is made from strained live yoghurt (ie labneh), sweetened with a little raw Irish honey. The base is made of nuts and dates, blended with some coconut oil.

If you would like to taste all these dishes and learn how to cook them so you can entertain your guests in style then check out my schedule on my website. The next demo is Thurs April 19th at 7.30pm.

Happy Cooking!

Fiona