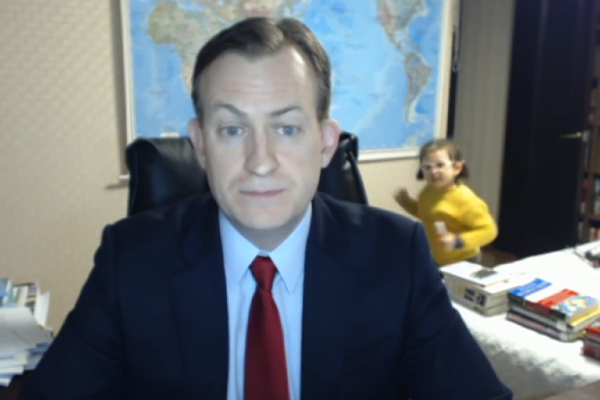 Picture via Facebook
We've all seen it. We've all loved it. Now let's watch it again and raise our glasses to the best viral video of 2017: political analyst Dr Robert Kelly being gatecrashed by his two adorable kids during a live interview.
It all started when Robert, the associate professor of political science at Pusan National University in Busan, took part in a BBC interview on the impeachment of the South Korean president from the comfort of his home office.
He had just started to delve into the scandal when all of a sudden his daughter Marion strolls in, swing her arms merrily.
We can't help but smile every time we see the bespectacled little girl - she has swagger we can only dream of and the wardrobe of Arthur the aardvark.
DEAD. #BBCDad pic.twitter.com/a9sthvwS7Z

— Arthur Memes (@arthur_memes) 13 March 2017
With a subtle sweep of his arm Robert tried to usher his daughter back outside, but instead, she toppled some books and was joined by her baby brother James. The infant literally rolled into the club in his walker.
And the rest is history - their mum Jung-a Kim dragged the kids out while the professor repeated 'Pardon me' and 'My apologies', cementing their place in the meme hall of fame.
The family later explained that Robert usually locks the door when doing such interviews.
"Most of the time they come back to me after they find the locked door. But they didn't. And then I saw the door was open. It was chaos for me," Jung-a Kim said in an interview with the Wall Street Journal.
The incident was certainly unexpected for Robert, who's been on TV as a talking head for a while.
At the end of the day, though, the mishap was all chalked up to being a part of parenting life, and we can't help but relate (on a non-viral scale).
In their first interview since that infamous Skype mishap, Robert Kelly and his wife Kim Jung-A on global reaction https://t.co/pM6vGBmGoL pic.twitter.com/0nxY2SBDWK

— The Wall Street Journal (@WSJ) 14 March 2017
Their intense window of fame (Robert said they had to put their phones on aeroplane mode) has led to more TV appearances for the family.
Besides follow-up interviews, the Ohio native went on a South Korean reality show called The Return of Superman, which features fathers raising young children.
Robert acknowledged the anniversary of his family's newfound fame by retweeting the video and the BBC's apt observation: "One year ago today the world became a better place."
We couldn't agree more! Here's to Marion and her family - we hope they are doing well!