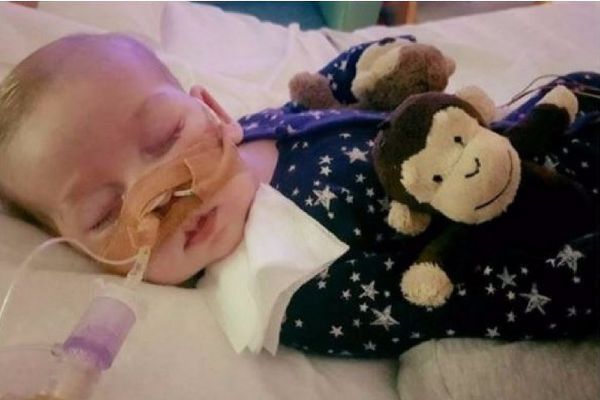 The parents of Charlie Gard have been given two days to produce substantial evidence showing that experimental treatment will help him significantly.
This was the decision of Mr Justice Francis, who presided over a special hearing yesterday evening.
Great Ormond Street Hospital appealed for the new hearing into the case, after fresh evidence regarding the experimental treatment was presented by doctors from around the world.
Connie Yates and Chris Gard attended yesterday's hearing, and grew visibly emotional when GOSH executives once again claimed that treatment would not make a difference to the 11-month-old.
Father Chris reportedly said: "When are you going to start telling the truth?"
In an update on the Charlie's Fight Instagram page, the team revealed that Connie and Chris have been ordered to present new evidence regarding the experimental treatment to the courts. They are set to present the evidence tomorrow, and a further hearing will take place on either Thursday or Friday.
Speaking at yesterday's hearing, Mr Justice Francis said: "If you bring new evidence to me, and I consider that evidence changes the situation…I will be the first to welcome that outcome."
The hearing comes just days after Connie and Chris delivered a 350,000-signature petition to GOSH medics, calling for them to give their precious son a chance at treatment.
The couple have had a very difficult few months, fighting for Charlie, who has a rare genetic condition.
They have battled GOSH at every level of the British courts, even bringing their fight to the European Court of Human Rights. When the ECHR refused to intervene in their case, Charlie's life-support was set to be switched off on June 30.
Vocal support from The Pope and President Donald Trump changed everything, however, and led to an extension of his treatment.
Connie and Chris are holding out hope for Charlie's case ahead of Thursday's hearing, with their social media team sending out a rallying message across Instagram.
"Please continue to share Charlie's story," they wrote. "The fight is not over yet, and Charlie, Connie and Chris will need all of your support in these coming days."
"If he's still fighting, we're still fighting!"
We will, of course, keep you updated on Charlie's case as more information emerges.