Want to know more about the impact of menopause on your health, but aren't sure where to start? It can be daunting to try to get answers to medical questions we have about our health as women. Googling can often frighten the life out of us or misinform us and booking a doctor's appointment can feel silly if we only have a few questions we need answered.
Which is why it's great that organisation like Aware are organising webinars like the one they're hosting this May. Aware is the national organisation providing support, education and information for those impacted by anxiety, depression and bipolar disorder and this month the topic of their popular monthly webinar is 'Let's Talk About Menopause'.
Happening Wednesday the 12th May at 12 noon, this webinar is open to the public and free to attend. Aware will look at the topic of menopause for the May edition of its popular monthly webinar series. 'Let's Talk About Menopause' will feature Aware's Clinical Director Dr Claire Hayes and Dr Caoimhe Hartley, a GP and menopause specialist, discussing the menopausal transition and related impacts on women's physical and mental health. Attendees will have the opportunity to submit questions in advance or during the live webinar via an anonymous Q&A box.
Dr Caoimhe Hartley, GP and founder at Menopause Health Clinic commented: "The hormonal changes that occur during perimenopause and menopause can have a huge impact on our physical and emotional wellbeing. It is so important to be well informed about what happens during this time of life, to recognize the symptoms and be aware of what options are available to help. I am passionate about women's health and believe that informing women about their own physical and mental health, empowers them."
Dr Hartley is an Irish trained GP who is the only medical practitioner in Ireland to have been accredited by both the North American Menopause Society and the British Menopause Society and has recently been appointed as a British Menopause Society trainer. Dr Hartley has worked in different healthcare systems across the world including in Europe, North America and New Zealand which has given her a broad perspective on patient care. She is passionate about helping women and providing excellent care to her patients. She strives to provide the best, evidence-based care in a warm and welcoming environment.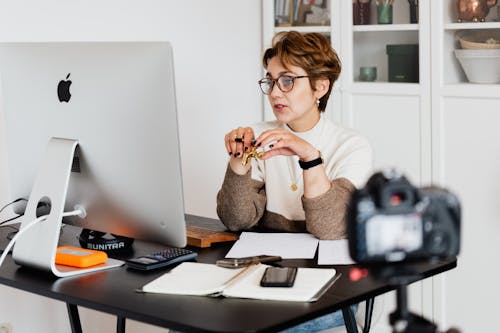 To book your free place at 'Let's Talk About Menopause', register here or via aware.ie. Once registered, you will receive an email with the Zoom link to access the webinar live on the day and an opportunity to submit a question for consideration. If you're unable to watch the webinar live, you can still register your place and you will receive an email 24 hours after the webinar to watch it back, in your own time. You must register in advance if you wish to receive this email with the link.
The Aware Webinar Series takes place on the second Wednesday of each month at 12 noon featuring clinical and lived experience experts on a variety of mental health related topics. Each webinar is one hour in duration and broadcast live on the Zoom platform. Webinars are free to attend and all are welcome. All webinars are recorded and made available to watch back on Aware's YouTube channel, so it's easy to access. Well worth checking out!