A butcher in Co Down has just come up with one of the most controversial gin and tonic pairings ever and we are COMPLETELY intriuged.
McCartney's of Moira is run by sisters Judith Millar and Sarah Price. They are daughters of the long-time owner, George McCartney.
The sisters came up with the idea to infuse their sausages with gin as they were brainstorming for new concepts for barbecue season.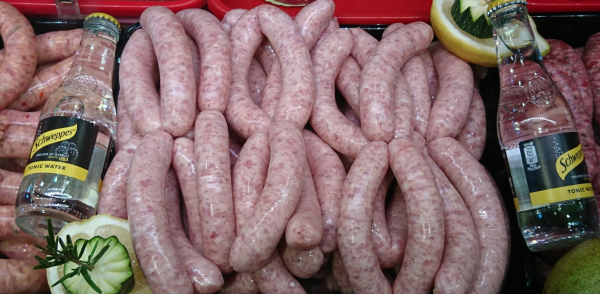 Judith told the Belfast Telegraph: "We were just having a chat towards the end of June about what we could do for something a bit different to generate interest for the barbecue season because with weather in Northern Ireland being so hit and miss, it can make or break your summer trade-wise.
"So we thought we would try and drum up a bit of interest with new sausage flavours. I don't know what led me on to the idea of gin, I had this notion about gin and tonic as a flavour,as it's a very popular and cool and trendy thing at the minute, everyone is going gin mad. Nothing ventured, nothing gained".
Unfortunately, the boozy gourmet sausages are only available from the McCartney's of Moira, in Belfast.
Judith says they have a lovely rounded flavour and are perfect for your summer BBQ.
And with good weather forcast for next weekend, we say this brings a whole new meaning to the words bottomless brunch!