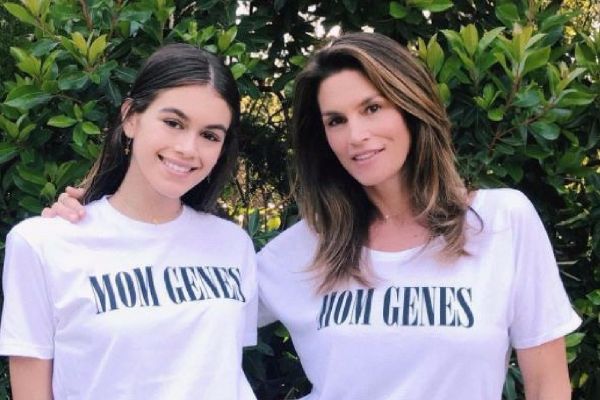 Cindy Crawford's daughter Kaia Gerber has certainly inherited her mum's famous beauty and embarked on a modelling career at the tender age of 13. She's since won several lucrative contracts and was recently announced as the new face of Marc Jacobs Daisy.
However, like many teens, she perhaps underestimated the power of social media when she posted a racy selfie of herself in a bathrobe online to her 1.4 million followers.
Kaia, 15, posed with the bathrobe half-off revealing her shoulders and part of her chest and the teen and her mum have been getting a lot of flak ever since.
"Is she seriously 15?!! How can her parents allow her to exploit herself in this way," a person commented.
While another left an incredibly barbed comment, suggesting that Kaia's parents were at fault.
"Her parents don't care," it read. "Lack of good parenting results in this false glorification of the self… she doesn't look like a 15-year-old girl. She looks like a woman, she teases like one, and she probably behaves like one. It's all about the external image, an empty shell. They are craving for the wrong attention!"

"It was a matter of time… but I still hate to see this. Cindy — take the reins now before you can't anymore," another addressed the teen's mum.
In the past, Cindy has expressed concerns about Kaia entering the modelling world.
"Today, models are expected to be so tiny, and I worry about that for her, because that was never my natural body type and I don't think it'll be hers either," the 51-year-old said.
Cindy is not about to hold Kaia back from pursuing her dreams, however, and while it seems she will definitely be keeping an eye on her progress, she did share some advice for the teen.
"Enjoy carbs while you can!" she joked, adding, "Kaia's blossoming into such a beautiful young woman and I really want to let her shine. I don't want her to feel in competition with me…But she'll be fine! She's much more together and worldly than I was at her age."
Worldly as she may be, Kaia's recent selfie sparked concern amongst her followers that it was too revealing for a girl of her age.
"I love Kaia with all my heart and she is gorgeous, but she is too young for this type of photo," one ardent fan wrote.
What do you think mums? Should Cindy put her foot down over such photos or do you think it's harmless? Let us know your thoughts.