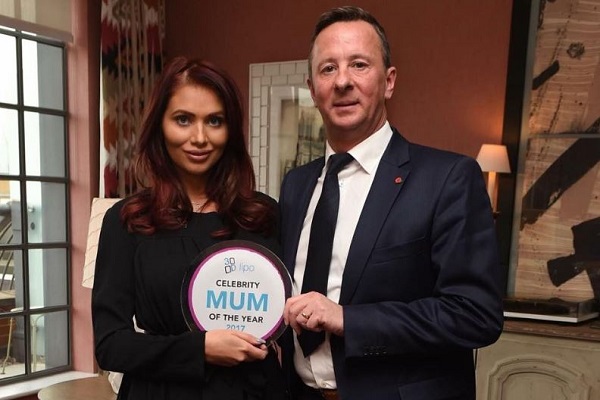 Huge congratulations are in order as Amy Childs has won the 2017 Celebrity Mum of the Year award. The former The Only Way Is Essex star is overjoyed with her new title.
Amy attended a ceremony at London's Soho Hotel where she was presented with her trophy.
The mum brought a very special guest to the event- her six-month-old daughter Polly.
The tiny tot looked adorable in a light pink and white onesie and a fluffy hat. The little girl couldn't keep her hands off her mum's trophy as they posed for photos.
Amy took to Instagram to express her delight. She wrote, "I can't believe I've won 3D-lipo Celebrity Mum Of The Year."
Amy admitted that she felt extremely grateful, "I'm so overwhelmed with all the support I've received and can't thank you all enough for voting for me."
She shared that becoming a mum has changed her life for the better. "Being a mum to Polly is the most rewarding and important thing in the world to me and I wouldn't change it for anything."
Amy faced some tough competition as Binky Felstead and Kate Middleton were amongst the nominees for Celebrity Mum of the Year.
Other nominees included Cheryl Tweedy, Coleen Rooney and Giovanna Fletcher. The competition was fierce, but the judges believed Amy was the rightful winner.
Roy Cowley, who was involved in the award ceremony spoke about the competition, "Being a mum is a juggling act between career and valuable family time."
He continued, "We want to recognise the celebrities who are admired by the public for doing a great job of being a parent, whether new to the role or well experienced in motherhood."
Amy was stunned when she found out she had won, and it still hasn't sunk in for the mum-of-one.
She said, "Waking up this morning feeling so overwhelmed being crowned Mum of the year."
The reality star thanked her fans for voting for her, they were thrilled to hear the exciting news.
Fans flooded Amy's social media accounts with support. One wrote, "You deserve that award Amy you're a fantastic mum xx"
Another added, "Congrats. You're a great mum to little Polly."
However, many people expressed their anger over the award. They believed it was unfair.
One user commented, "There's no such thing as being " mum of the year" every single mum out there is mum of the year to their child!"
We love seeing Amy document her life as a mum on social media.
Congratulations Amy!