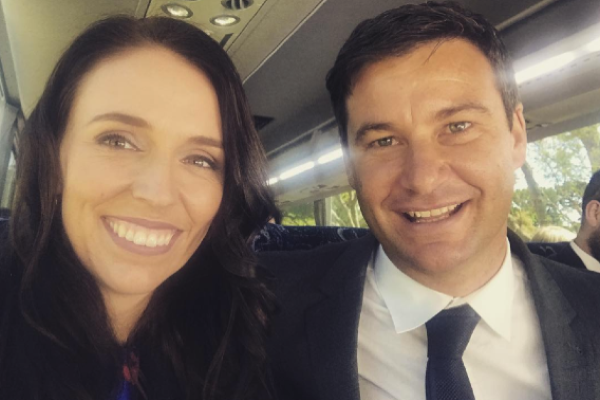 Picture via Instagram
Mums rule the world!
Jacinda Ardern, Prime Minister of New Zealand, revealed yesterday she and her partner Clarke Gayford are expecting their first child in June.
The mum-to-be is the first world leader to be pregnant in office since 1990, CNN reports.
The politician announced her pregnancy via Instagram, saying that she is excited to join the ranks of other hardworking parents.
"Clarke and I are really excited that in June our team will expand from two to three, and that we'll be joining the many parents out there who wear two hats," the 37-year-old wrote in the caption.
"I'll be Prime Minister AND a mum, and Clarke will be 'first man of fishing' and stay at home dad. I think it's fair to say that this will be a wee one that a village will raise, but we couldn't be more excited."
And we couldn't be more excited for them!
This isn't the first time Jacinda has made waves in politics. She became the world's youngest female head of government when she was elected as Prime Minister at the age of 37.
So yep, she may be our new hero now.
The expecting mum plans on taking six weeks leave after giving birth.
"I am not the first woman to multi-task, I'm not the first woman to work and have a baby, I know these are special circumstances but there will be many women who will have done this well before I have," the Prime Minister told reporters.
We could not be clapping any louder.
We're sure people will be happy to hear Clarke will have some company at home - or at least one little girl, Sonja, will.
This wins the cutest correspondence I've received to date.
Unless perhaps these guys are psychic, in which case, - where am I going??!!!??! pic.twitter.com/Sxg5mvknsu

— Clarke Gayford (@NZClarke) 18 January 2018
Clarke received what he classified as 'the cutest correspondence I've received to date' from a girl named Sonja, saying how she was worried about him since Jacinda is so busy with her job.
What a sweet sentiment! With a little one at home, though, he definitely won't be lonely!
Congrats again to Jacinda and Clarke! They are going to be world-class parents.