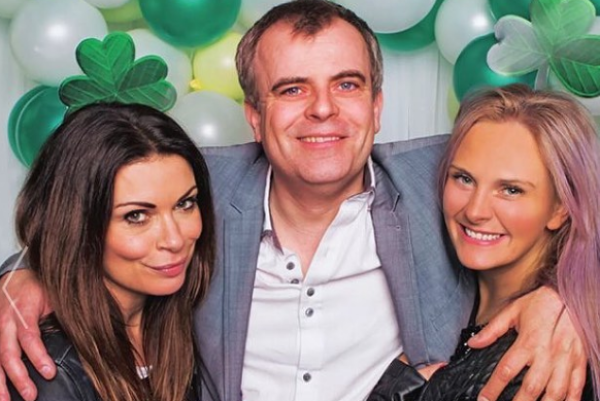 The Corrie soap star, Simon Gregson has revealed the harrowing details of his wife's near-death experience.
The 46-year-old's wife, Emma Gleave, suffered an ectopic pregnancy last year.
The couple opened up about her pregnancy on Lorraine's Wednesday talk-show.
The pair recently took a visit to Wythenshawe Hospital, where doctors saved her life.
Their emotional return to the hospital was to mark 70 years of the NHS.
Also joining us on tomorrow's show - @itvcorrie's @simongregson123 will be telling Lorraine why he wants to say thank you to the staff of the NHS. pic.twitter.com/nxUA9ABfTM

— Lorraine (@lorraine) May 22, 2018
On the programme, the pair revealed how they came to learn something had gone wrong.
"In September last year I started to feel a little unwell, and I just got this pure pain in my stomach where I couldn't even stand up. I knew immediately that something was wrong," explained Emma.
"I was a bit worried because Emma is kind of 'all the special forces' rolled into one small body. So if she's in pain, she's in pain," added the soap star.
@emmagleave pic.twitter.com/zunrsND5Mp

— simon gregson (@simongregson123) March 25, 2018
The severity of her condition began to sink in for Simon as it became apparent that her life was at risk.
"That's when the realisation hit home that this is very serious," he shared. "I mean, the surgeon said afterwards that another couple and hours and she very possibly may have died."
"I think it's great to be able to raise awareness and help people understand how brilliant the staff at the NHS are," he added.
Emma considers herself very lucky and praised the staff at the hospital.
"The staff at Wythenshawe Hospital absolutely saved my life. Other women don't have the outcome that I had, unfortunately. So I was very lucky."
Arrived in the big smoke with this bad influence!@simongregson123 ❤️ pic.twitter.com/OOf5ETd8cD

— Emma Gregory(Gleave) (@emmagleave) April 21, 2018
The couple have three little boys together.
Ten-year-old Alfie, Harry who is eight-years-old and the youngest of the clan, Teddy.
The tot is two-years-old.
Their journey to become parents hasn't always been an easy one.
To the £&)(; who tweeted my wife. We've lost 11 baby's 1st being 21 weeks 4 days. Maybe think or do your research before tweeting someone

— simon gregson (@simongregson123) January 11, 2017
Simon told the Mirror last year that they had suffered 11 miscarriages.
"Me and Emma have lost children.
First one at 21 weeks and four days. As a bloke being there and witness to all this, you feel completely helpless. Your wife who has carried the baby and has not given birth to the baby.
Then there's all the stuff that goes along with being a human being - the chemical reaction, everything that goes on in your brain."
They shared their story with the aim of sharing awareness around ectopic pregnancies.