From
caterpillar sock puppets
to
paper plate hats
, there is a craft for every item hanging around the house. Now, while we know that the logical way to use up your cake papers is to bake some cupcakes (we don't need to be asked twice!) this cute cake paper fish is a fun and gorgeous craft that is super-easy to make and will brighten up the house instantly.
What you will need:
Cake papers (plain or coloured)
Paints/ markers
Coloured card
A pencil
A scissors
Glue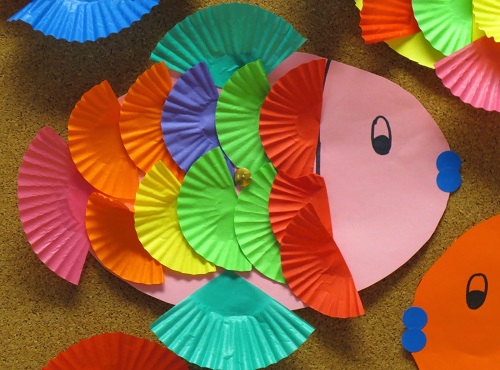 Method:
Draw a large oval shape on your coloured paper, taking on the shape of a fish, to serve as the body, and cut it out.
Using your pencil, draw a line denoting the fish's head, adding on an eye and some pouting lips.
Either use coloured cake papers, or colour in some blank ones using paint or markers yourself. If you are colouring them yourself, be sure to colour lightly so as not to break the paper.
Your cake papers are going to serve as your fish's colourful, scaly skin. Pick out your favourite colours, and then fold them in half to create the scaled effect. Get creative by folding them in different ways to represent different parts of the fish, as pictured.
Leave two large papers for the fins, on either side, and one for the tail.
Once you have decided on a colour pattern, add a dab of glue to the back of your cake papers and stick them onto the fish's body.
Tip: Why not make this into a group craft project and create an entire school of fish?
Images via Pinterest