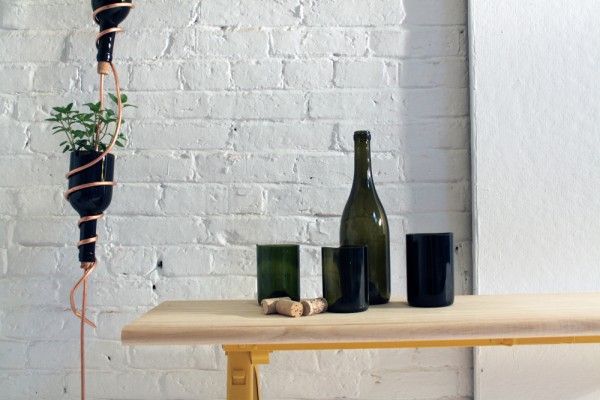 Before you throw empty wine bottles into the recycling bin, why not make a nifty DIY indoor herb garden instead.
All you need to create this lovely feature is some copper tubing, a few basic DIY tools and of course, your wine bottles.
Donning safety gloves and goggles is also a good idea before you get to work.
1. Soak the wine bottles in warm water before peeling off the labels.
2. Lay the bottle on its side on a flat surface, and make an even, halfway score around the bottle with your glass cutter.
3. To separate the two halves of the bottle, hold it horizontally over a candle for one minute, before dipping it into a basin of cool water. It should separate easily. Alternatively, you can place the bottle on its side in a sink before pouring hot water over it. Then, run it under cool water. This should have the same effect.
4. Smooth down the edges of the separated bottle with sandpaper.
5. Secure the wine cork in a vice, before drilling a hole through the middle.
6. Push the copper tubing through the hole, and onwards, right through to the next wine bottle below it. Remember to insert the corks first, then the copper tubing, so each planter drains into the next.
7. Wrap the rest of the coil around your wine bottles, to add structure to your feature.
8. Fill your bottles with soil and the herbs of your choice, before hanging from the ceiling so the neck of the bottle is facing downwards.
9. Don't be afraid to experiment with different types of bottles and tubing.
Image via Pinterest.