As of today, I've been in two hospitals for 32 days, a full month, and if I ever wondered what it feels to be institutionalised, well, I can wonder no more. I've merged in to the rhythm of the hospital and am beginning to worry will I actually be able to cope when I do get discharged and no one comes in to my room at 7.00am to take my blood!
So why am I enjoying this extended hospital stay, I hear you say, well over the summer I had five hospital admissions in about eight weeks due to a very uncooperative bowel. It insisted on twisting and causing extreme pain and illness, resulting in many a mad dash to the hospital. Drips, drains and painkillers ensued and the medical team would send me on my way. All sorts of diets, routines and snake oils were tried to stop this hostile bowel from causing such havoc. But, after the five admissions, we all admitted defeat and surgery was confirmed to tame the offending bowel.
I've come to realise that some of the side effects of having cancer is that the treatments can be more painful and cause more restrictions to your life than the cancer itself. All the previous surgery, tumours and an accumulation of the chemo on my bowel had caused it to produce really debilitating obstructions. I've had the weight gain, lost the feeling in my fingers, extreme exhaustion, no hair, horrific skin, anything cancer treatments can throw at you, but these bowel obstructions are beyond what most people should be asked to bear in a bid to keep alive.
My surgeon had warned me every time I presented in hospital that it would be best to let the obstruction resolve itself and that surgery was the route of last resort. Although I did listen to his warnings that if he did go ahead with the surgery that it would be complicated and the recovery long, nothing prepared me for a month in hospital and now all I'm facing in to in the coming months.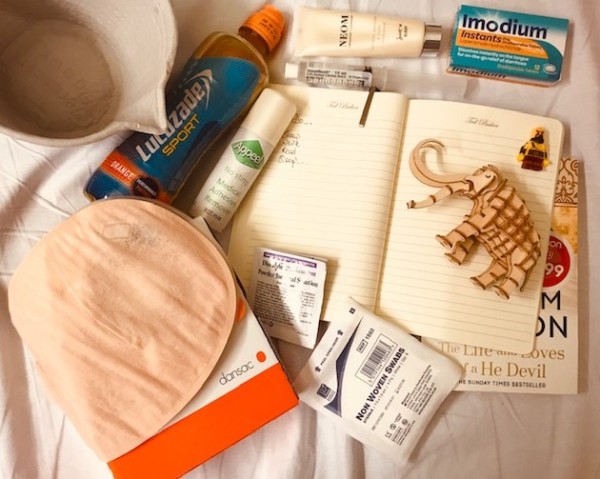 I recovered from the main surgery well, and despite a stint in high-dependency isolation, my pain was well managed and it was a lot more bearable than I had anticipated. The trouble started with my brand new stoma. The body can behave in strange ways, but I never thought litres of fluid leaving your body could cause such damage. I've basically (and hopefully temporarily) lost the ability to extract and retain nutrients from food and beverages that are needed to keep my body functioning. SO, without going in to all the finer details, I'm getting all of these nutrients from a TPN (Total Parenteral Nutrition) a feed that infuses directly into my bloodstream over 12-14 hours. I'll have to keep this up once I do get out of the hospital, hopefully for no more than a few months, as I really think this could put a serious stop to my gallop. On the upside, I've lost about 12 kg, all that chemo/steroid weight is now gone...yippee. I think I'm the only one happy about that, my dietician does give me the side eye when I smile at the scales! Always a silver lining if you want to see it!
My family, husband, boys, parents, brothers and sisters have all been coming in regularly, but I was a bit anti social for a few weeks and kept the visitors to this group only. But, knowing the staff rosters and what's happening in the nurses lives, more than I've seen my friends is sad, and I'm looking forward to a lot of tea, beside my fire with my besties when I get out. The nursing team here in the hospital are amazing and there really is nothing they won't do for me, but all I really want is my own bed and to cook myself some food. It's like eating in a restaurant every day and sometimes you just want cheese on toast the way YOU like it.
My days are filled quite easily between the early morning consultant visits, feeding times, dieticians, chaplins etc - all the people who make the hospital merry-go-round. But I've also discovered the "Real Housewives of Beverley Hills", "A New Life in the Sun" and as I've seen so many back episodes of the Kardashians I can actually see how much cosmetic surgery they all have had! I've also made a 3D wooden mammoth, read four books, watching nearly the entire series of "Jane the Virgin" on Netflix and talked a lot of rubbish to the night staff when I can't sleep. One heated debate over whether Diana was pregnant when she died was a particular highlight.
There's even been a namesake storm while I've been here, we've changed seasons, the kids started school and it's nearly mid-term break. I think I've missed about five birthdays, a weekend away and today we had to cancel a trip to Copenhagen that I'd planned for the hubbie's birthday, he's now looking for another present! Time moves on, yet here I still am.
When I was admitted we anticipated two weeks max, and planned child care, home support etc, but four weeks in now I think we are very lucky to have great in-laws, friends and my husband has a supportive employer. Hospital visits turn our lives upside down, but hopefully now I've had this surgery I can keep out of them for more than a week, like the summer we just had.
Over the weeks I've been here my doctors started letting me out on Saturdays to spend some time with my husband and boys. The first trip I wasn't that steady on my feet and I practically ran back to my room, but as I got stronger the day release programme has made the weeks pass easier. I did feel a sense of 'difference' when I was out, more than I feel in the hospital, especially just looking at people rushing around, while I'm walking slowly and hunching over to protect my stoma and stitches. I found myself thinking that despite all I've been through with cancer, this operation really changes things for me. I've got limitations on my life, what I can wear, when I can go out etc that makes me really wonder, and worry, about what my new life will be like with I get out of the supportive environment of the hospital. Like a child on stabilisers, when everyone else is riding a bike, and I just don't know if I'll ever get to ride the bike ever again.
I'm so grateful for all the well wishes, cards, presents, kindness, play-dates, chicken soup (my mother-in-law, when it was the only thing I could eat), but I'm really ready to just get back to normal life. I had to defer my place in NCAD due to the operation, so I've all of this year to adapt to my stoma and build up my strength for college in 2019.