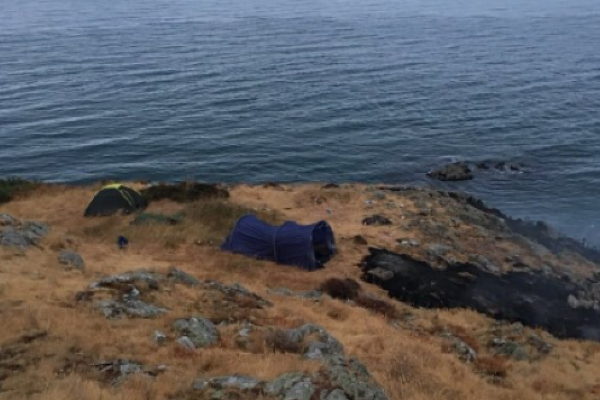 If you're taking the train this morning, you may want to revise your journey plan, if you're around the Wicklow area.
Commuters are experiencing delays on Friday morning because of a blaze in Bray.
All Irish Rail Dart and Commuter services have been suspended for the remainder of the morning between Bray and Greystones.
The steep cliff face gave a protected route for the fire down to the track while crews fought the fire from above. Many thanks to Irish Rail staff for their quick response and efforts from track side. @IrishRail @BrayTCouncil @wicklowcoco #wicklow #bray pic.twitter.com/CISaojWH1M

— Wicklow Fire Service (@FireWicklow) July 13, 2018
Dublin bus are accepting rail tickets to and from Greystones.
The Wicklow Fire Service said the start of the fire was outside a tent on Bray's head, that spread east of the cliff walk around 1 am this morning.
Although the fire is now contained by the Wicklow Fire Service, there has been damage to the railway infrastructure.
The fire on Bray Head is under control unfortunately damage has been caused to railway infrastructure by the fire which is being assessed by Irish Rail.@IrishRail @GreystonesCC @wicklowcoco @BrayTCouncil #bray #WICKLOW @aaroadwatch @GardaTraffic pic.twitter.com/a4eytdpibg

— Wicklow Fire Service (@FireWicklow) July 13, 2018
The Dublin Fire Brigade has reminded the public that a red forest fire warning remains in place.
This means no open fire or BBQs, educate your children and teens about the dangers of gorse fires, and call 999 if you spot a fire.
Do not attempt to fight the fire, do not drive near the fires or through any smoke.
'Condition Red - Extreme Fire Risk' extended until Monday 16th.

No open fires or BBQs
Teach your children and teenagers the danger of gorse fires
Call 999 if you see a fire
Don't attempt to fight the fire
Don't drive near the fires or through the smoke https://t.co/VGIqAzPDd7

— Dublin Fire Brigade (@DubFireBrigade) July 11, 2018
The warning will be reviewed on Monday afternoon but will stay live until then.
Met Éireann has issued a yellow drought advisory until midday today.
The situation will be continually updated as the day goes on, keep an eye on Irish rail's twitter accounts for more.