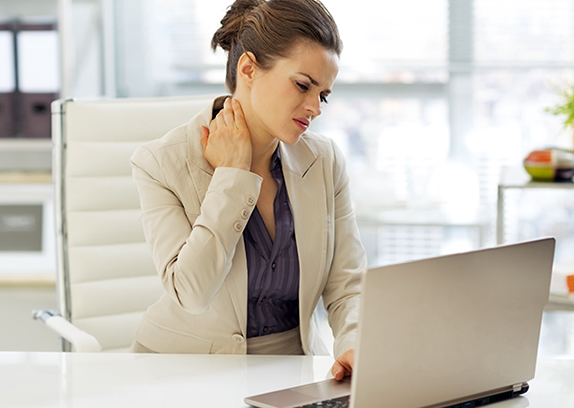 One of the major side effects that comes with working at a computer all day is the pains you can get in your shoulders and back.
It can be excruciating and, if left untreated, can lead to much worse problems.
Four in five women develop crippling back pain at some point during their lives but there are some things you can do to prevent that from happening.
1. Seat support
A lot of problems can arise if you're sitting in the wrong type of chair. Either it offers zero support for your back or it's far too uncomfortable for you to relax.
Try and pick something that aligns comfortably with your spine and recline just a tad to make sure you're sitting right into the back of chair.
2. Head up
Avoid drooping down to see your computer screen and focus on keeping your head up and supported properly.
Check your screen is at the right height for you, it could be causing you to lean forward. If it is too low, prop some books underneath and sit up straight.
3. Keep it close
Your keyboard should sit comfortable beneath your hands when your forearm is resting on the desk.
Likewise with your mouse; it should be placed right next to your keyboard that way you're not stretching to type and straining anything.
4. Flat feet
We often see people in MummyPages HQ with their legs crossed while sitting at the desk and this can be a huge cause of back pain and even interrupting blood flow.
Try and sit with both feet flat on the ground and about shoulder width apart. This is the least stressful position for your feet, ankles and lower back.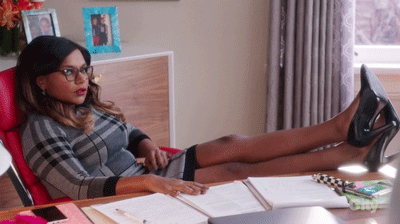 5. Take five
Try and get up from your desk at least once an hour to stretch everything out. Make a cuppa, go to the bathroom, whatever will get you up for a minute or two and give your body time to realign.
Try and give your shoulders a good roll or doing a quick stretch before sitting back down, anything you can do to get everything moving flexibly again. Your body will thank you for it.
SHARE these top tips.