A Michigan doctor has come under fire after refusing to treat the child of a lesbian couple.
When Krista and Jami Contreras discovered that they were expecting, they searched around for the right paediatrician to treat their child and, upon recommendation, they attended the surgery of one Dr Vesna Roi in a Michigan-based centre.
However, when the couple arrived for their six-day-old baby's first check-up, they were greeted by a different doctor. When they questioned why Dr Roi was unavailable, they were informed that she had "prayed about it" and had decided she couldn't treat the couple's baby on grounds of her religious beliefs.
Taking to Facebook to share their story, Krista wrote that Dr Roi was "well aware that [they] were lesbian moms", adding that they had cancelled meetings with other paediatricians because they were happy with her.
"Now our little girl was six days old, and we were in a room with a doctor we have never met, feeling pretty humiliated, distraught and hurt," she wrote.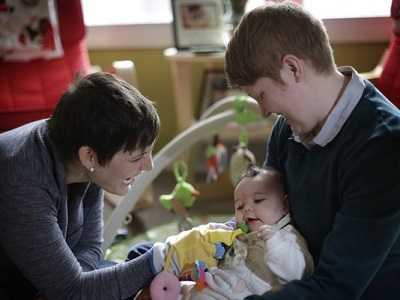 She added: "The fact that she refused to see our innocent little girl is disturbing. But the fact that she did not have the decency to let us know ahead of time that she had a problem with the sexual orientation of her parents and would not be willing to take her as a patient really just pi**ed me off."
While the incident happened back in October of last year, the Contreras couple revealed that they decided to go public in order to highlight the plight of other same-sex couples who experience similar discrimination.
Responding to the Facebook post, Dr Roi said that while the couple were "always welcome" in her surgery, she felt that she would "not be able to develop the personal patient-doctor relationship" she normally does with her patients.