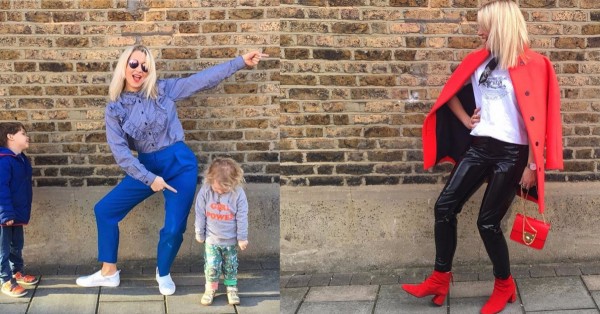 The phrases "mum style" or "dressing like a mum" often have negative connotations, with some suggesting that mums can't be trendy or have a sense of style.
Not to mention the word "mumsy", which is generally associated with clothing that isn't seen as stylish or trendy.
However, one very proud mum and fashion lover has turned the phrase on it's head and has made a career out of "dressing like a mum."
Zoe de Pass started her Instagram account "Dress like a mum" last year to share her individual sense of style.
It's gone from strength to strength with Zoe amassing a whopping 66K followers who love her "mum style" and fun-loving personality.
She also has her own blog www.dresslikeamum.com and hopes to turn "Dress like a mum" into her own brand.
Zoe, 35, was inspired to start her blog from research she did while working as digital strategist, according to The Telegraph.
She explains that while studying the "mum demographic", "I found there was a big disconnect from high street retailers between what they were doing and how they were catering to mums."
"A shop that sold quite cool clothes would treat its maternity wear as an afterthought and yet this was potentially the same customer."
Zoe, who has two young children under four, also noticed people's attitudes towards her style changed once she'd become a mum.
"When you're a mum you get judged a lot," she says. " 'You look like a mum', 'You don't look like a mum'. It doesn't stop."
After searching the term "mum style" online, Zoe was shocked to find people still have negative perceptions of "mum style" and outdated ideas of how a mother should dress.
"All the connotations were negative," she says. "It was so dated. I thought, 'I don't know any mums who act or dress like this. I want to turn it around.' "
Zoe decided it was time to tackle the matter and started using the hashtag #dresslikeamum on her Instagram photos.
"I want to change the perception that mums can't dress; that we automatically lose our sense of style and our passion for fashion just because we have kids", she explains on her blog.
"I started my project because I frequently receive comments such as 'you don't look or dress like a mum', 'I can't believe you have two kids' and I couldn't work out if this was a compliment or not and if it is why is it?"
"There is no such thing as a 'normal', 'proper', 'ordinary' mum as there is no such thing as a 'normal', 'proper', 'ordinary' person. And there is no 'proper' way to dress regardless of if you are a mum or not."
She went on to say when women become mums, their priorities change because they have less time and some may feel as though they have to change the way they dress.
She encourages mums to "wear whatever they like, whatever they feel confident and happy wearing - I believe a good outfit can make for a better day!"
Zoe hopes other women will find her blog useful for style inspiration and advice, regardless of whether they are a mum or not.
We admire her for destroying this ridiculous stereotype and challenging the status quo.
We're pretty jealous of her amazing wardrobe as well!