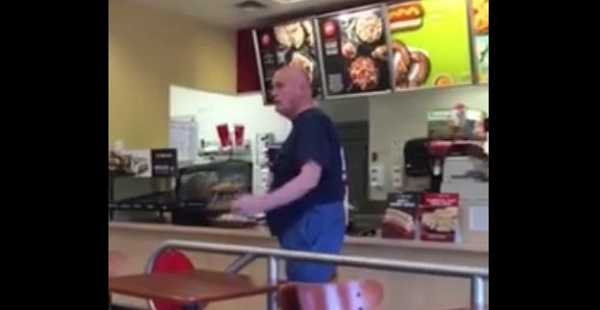 Preying on an innocent member of the public is pretty despicable behaviour, but it is unforgivable to give a tearful mum a tongue-lashing while she is breastfeeding her baby.
Sadly, this proved to be the case for US mother Jessie Maher, who this week shared footage of the man who hurled abuse at her for publicly breastfeeding her daughter, in her local Target department store.
In her (rather explicit) Facebook post, Jessie explained how she was nursing four-week-old Zinnia when the man asked her to 'do that somewhere else'. He then went on to brand her nursing as 'disgusting' and even called her a 'w***e'.
It didn't take long for fellow customers to cop on to what was happening, and several of them leapt to Jessie's defence – including one very vocal fellow mum.
Furthermore, several Target employees appeared on the scene shortly after to shield a tearful Jessie from the man, and to ask him to leave the store.
The footage has, unsurprisingly, prompted outrage from social media users who cannot believe that nursing mothers are STILL facing this kind of abuse.
"Judging by his crying, I'm guessing it was that man-baby's feeding time, too," wrote one Facebook follower, to the amusement of many others.
We hope that Jessie – and other breastfeeding mums – can take comfort in the show of support she received from the majority.
SHARE to show the power and strength of community.