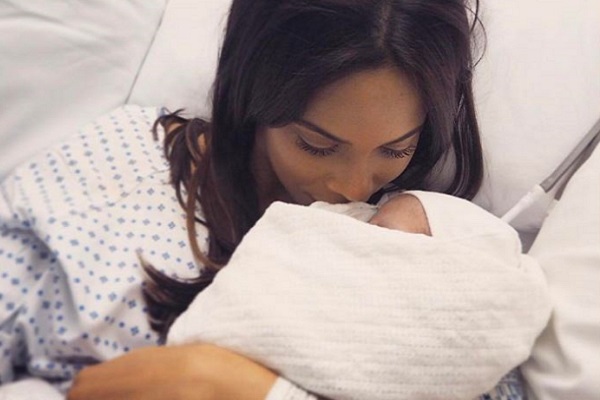 She previously took to Twitter to ask for advice on placenta encapsulation, and it seems Rochelle Humes was won over by the positive feedback.
The star has set conversation in motion with her latest Instagram post, featuring a bottle of placenta pills along with a framed section of her umbilical cord arranged into the word 'love'.
The post came two days after the 27-year-old gave birth to her second child with husband Marvin; a daughter, named Valentina Raine.
"After being very curious, I took the plunge. So excited to feel the benefits. Thanks so much Danielle at Placenta Plus," wrote the former star of The Saturdays, in the caption.
Placenta encapsulation is always a divisive topic, and it didn't take long for Rochelle's legion of fans to share their opinions in the comment section – and it wasn't all positive!
While one person commented with a simple (but powerful) 'Ewwwwww', another person took aim at the possibility that Rochelle may have been promoting a business or product.
"The sad thing is, she was probably sponsored to do this, making money out of a newborn child," read another rather harsh comment. Oh well, you can't please everyone, can you?!
Thankfully, there were far more positive and encouraging comments, with another writing: "That is gorgeous! The cord is amazing, fantastic, life-giving, and you should be so proud of it. The benefits of the capsules are going to be great!"
Rochelle and Marvin welcomed their second bundle of joy last Friday. They are, of course, already parents to three-year-old daughter Alaia-Mai.
They confirmed the birth in the sweetest Instagram post, featuring Rochelle cuddling her newborn daughter: "Our world is now complete. Valentina Raine Humes – happy birthday, little one," wrote the besotted new mother.
Proud daddy Marvin followed up with a series of beautiful photos, including one of his former JLS bandmates meeting baby Valentina for the very first time, the caption reading: "Four men, one boy and a little lady."