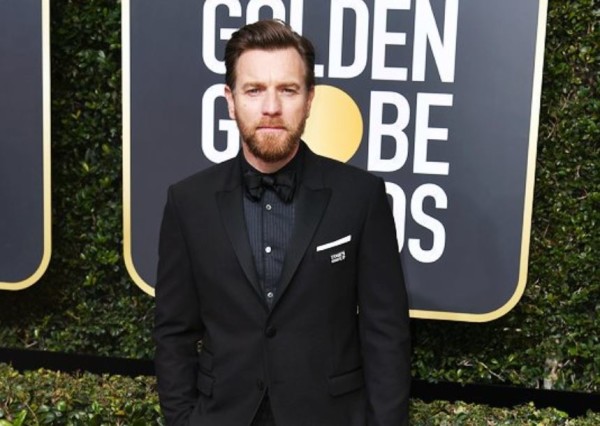 Last night, Ewan McGregor won Best Performance by an Actor in a Motion Picture for Television (wow that's a mouthful!) at the Golden Globes, and as par the course he had a speech ready for when he accepted his gong.
Congratulations to Ewan McGregor (@mcgregor_ewan) - Best Performance by an Actor in a Limited Series or a Motion Picture Made for Television - Fargo (@FargoFX) - #GoldenGlobes pic.twitter.com/oxG2EAVb78

— Golden Globe Awards (@goldenglobes) January 8, 2018
and my Scottish boy #EwanMcGregor #GoldenGlobes pic.twitter.com/jH8Dn7mKhZ

— Belit_Ah mine'l Miran (@Belit_Hileon) January 8, 2018
And while he definitely deserved the award, it was who he thanked in his speech that left everyone with raised eyebrows: his estranged wife, Eve Mavrakis, and his rumoured girlfriend, co-star Mary Elizabeth Winstead.
"I want to take a moment to just say thank you to Eve, who always stood by me for 22 years, and my four children Clara, Esther, Jamyan and Anouk," the actor said.
"And I've always loved being an actor and I love hanging out with actors and I got amazing actors to work with on this."
Continuing, he said:
"There wouldn't have been Emmit Stussy without David Thewlis and Michael Stuhlbarg and Carrie Coon and there wouldn't have been a Ray without Mary Elizabeth Winstead."
And Twitter could not help but have their say on it!
Okay. #ewanmcgregor is ageless. He also thank his wife, whom he's left for #MaryElizabethWinstead hmmm #tea #goldenglobes

— amanda leigh nelson (@itslovefield) January 8, 2018
It's a class move to work both your wife and your mistress into your #GoldenGlobes acceptance speech. #ewanmcgregor

— Julia Smillie (@JuliaSmillie) January 8, 2018
#ewanmcgregor gives a shout out to #calgary his ex-wife, his current lover he left her for and his children for his win for #BestActorTV for #Fargo #GoldenGlobes #GoldenGlobes2018

— Jillian Thomas (@foulmouthgirl) January 8, 2018
Ewan and his wife of 22 years reportedly split at the end of last year following an alleged affair he was having with his co-star. The actor then shocked family and friends by embarking on a romance with Mary Elizabeth.
The former couple have four children together: Clara, Esther, Jamyan and Anouk,