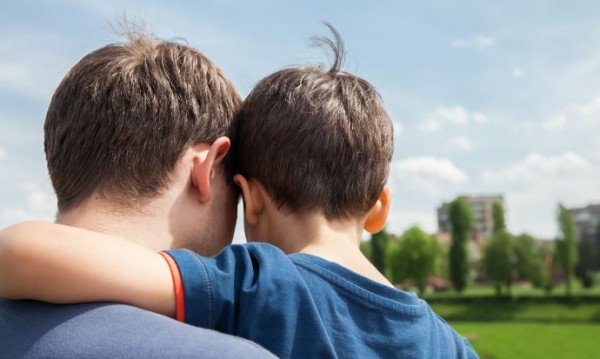 Facebook seem to have a very real problem with this photograph as it has been repeatedly taken it down from their site.
Heather Whitten took a photo of her husband Thomas craddling their son as he suffered salmonella poisoning in November 2014.
Explaining the story behind the picture the mum wrote:
"Fox would be hospitalised that night for salmonella poisoning.

"Thomas had spent hours in the shower with him, trying to keep his fever down and letting the vomit and diarrhea rinse off of them both as it came.
"It was a powerful moment for us as parents. Our intuition was starting to fire off that this was much more serious than just a virus but we've had much more experience with over reacting than not so we were trying to hold off.

"As I sat in the shower with the two of them I was just overwhelmed with the scene in front of me.
"This man. This husband and partner and father. He was so patient and so loving and so strong with our tiny son in his lap.
"His whispers of reassurance to Fox, that he would be ok and that Thomas would take care of him were so steady and so honest."
But after sharing the picture a few times, Facebook continued to take it down.
Speaking the The Metro, Heather said:
"They were just hung up on them both being nude and being in the shower. I had crossed a line. It was too intimate. It shouldn't be shared publicly.
"There is nothing sexual or exploitative about this image. There aren't even any "private parts" showing."
We shared the story recently of a mum who shared the same moment with her child as they had fallen ill.
The response was extremely positive with many of you saying it was a 'beautiful moment'.
But we want to know what you think.
Was Facebook right to take this picture down?
Let us know in our poll below.
SHARE your thoughts on this story.